Joliet West Varsity Cheerleaders qualify for IHSA State Competition
1/24/2019, 4 p.m.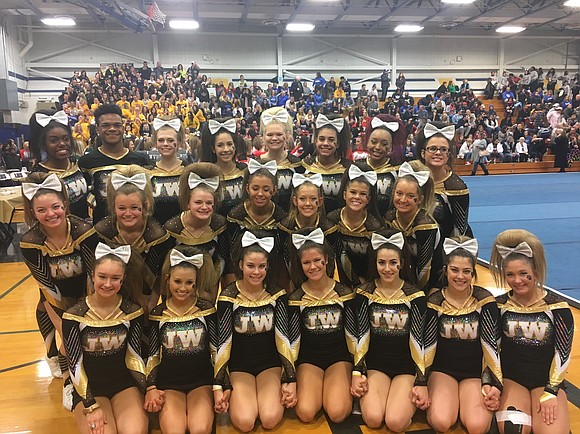 On January 26, 2019, the Joliet West Varsity Cheerleaders qualified for the IHSA State Series by placing 2nd at the Lemont Sectional. This is the 10th consecutive year that Joliet West has qualified. The Varsity team is coached by head coach Amy DiForti and assistant coach Nicole Cracraft.
Coach DiForti said, "We are extremely excited to compete at the State Series this weekend. We have a team of hardworking and dedicated athletes that have really grown as a family this year. We could not be more proud of them."
The Varsity Tiger Cheerleaders are Alyssa Anderson, Kelsey Bishop, Amarian Blackmon, Sara DiNardo, Kiley Duensing, Cheyenne Eads, Alyssa Enix, Mikayla Garcia, Katie Gibson, Makayla Guzman, Taylor Hogg, Kylie Jackson, Kendall Kobe, Maryssa Kos, Taylor Latta, Arielle Lindsey, Sofia Mejia, Nya Mitchell, Jazmin Morales, Haley Nurczyk, Lauren Peters, and Tia Roland.
The IHSA Competitive Cheerleading State Competition will take place with the Preliminary Round on Friday, February 1 and the Final Round on Saturday, February 2 at the Grossinger Motors Arena in Bloomington. All preliminary and final performances will broadcast live on the NFHS Network at www.IHSA.tv

Pictured (Left to right): Front Row: Kelsey Bishop, Jazmin Morales, Cheyenne Eads, Alyssa Anderson, Sara Dinardo, Taylor Latta, Mikayla Garcia. Second Row: lauren Peters, Katie Gibson, Alyssa Enix, Kendall Kobe, Kylie Jackson, Tia Roland, Haley Nurczyk, Back: Arielle Lindsey, Amarian Blackmon, Kylie Duensing, Sofia Mejia, Taylor Hogg, Maryssa Kos, Nya Mitchell, Makayla Guzman