Chicago's cold snap wreaks havoc on your plumbing
Tips on preventing and dealing with frozen pipes
1/29/2019, 11:10 p.m.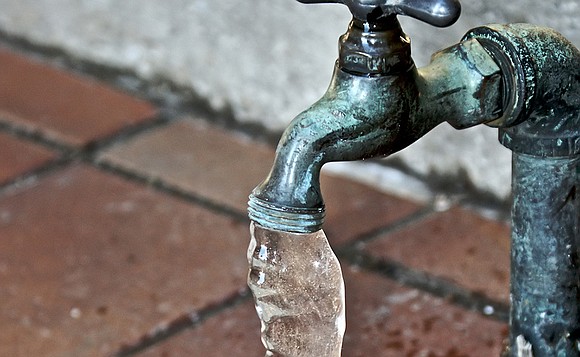 Many people worry about their home flooding with water during the summer months, but did you know you home can still suffer water damage during the winter months? Poorly insulated pipes and the lack of heat are the main reasons why properties water lines freeze and burst during the winter months.
Most people are not aware that a 1/8-inch crack in their plumbing could leak up to 250 gallons of water into their property in just one day. Frozen pipes cause a lot more damage than one might think and most people are not prepared for it emotionally or financially. It is not unusual to see frozen pipes cause water losses that cost thousands of dollars. However, there are steps that you can take to try to prevent a burst pipe from occurring.
How to help prevent frozen pipes:
• Allow faucets to slowly drip water. Flowing water helps prevent freezing.
• Do not let the inside temperature drop below 55 degrees in the winter months.
• Open cabinet doors below your sink to allow warm air to circulate within this closed off area.
• If the home is vacant or you will be away for an extended period of time, winterize the pipes by having them drained or have a neighbor check on the inside of the home while you are gone.
• Disconnect garden hoses and install covers on outside faucets.
• Insulate plumbing lines near exterior walls and in crawl spaces. Supplies are available at your local hardware store for low cost.
• Make sure heating vents are open in all rooms, especially the basement where it is the coldest.
• Consider weather sealing your windows to prevent drafts.
• Insulate outside walls and unheated areas of your home.
If your pipes freeze:
• Heat up the pipe with a blow dryer, space heater, heating pad, or warm towels until the water can freely flow through the pipe.
• Start thawing a pipe nearest to the faucet. Open the faucet slightly so water can be released as it starts to thaw out.
• Contact a reputable plumber that is experienced with thawing pipes. It is recommended that you verify they have workman's comp since they are working with an open flame.
If a pipe bursts:
• Locate your water shut-off valve and turn off the main water supply. This will prevent water from continuing to pour out. Make sure that everyone in your homes knows where the water shut off valve is and how to shut it off.
• Call a plumber to repair the plumbing line. In most cases, cleanup services will not be performed until the source of the issue is fixed.
• Contact a restoration professional to access your damage and verify that the damages will exceed your deductible before filing an insurance claim. Your insurance agent can verify your coverage and inform you if filing a claim is in your best interest.
• Be patient. Restoration companies are making an effort to get to you as soon as possible, but during times of bad weather it creates a "rush" where possibly hundreds of others are in need of services at the same time.
• If necessary, shut off the electrical panel to the affected area to reduce the risk of electrical shock, damage to circuits, and electrical appliances.
• Get anything out of the way that has not been affected but is in the vicinity as water quickly spreads. Place tin foil under furniture pieces.
• Do not use any electrical items that are plugged in and have made contact with water. Be aware of submerged electrical outlets and appliances. If the electricity is off and you are not standing in water safely attempt to unplug electrical items within the affected area.
• If possible, start removing the standing water with a wet vac or a pump.