2019 Lexus LS 500 AWD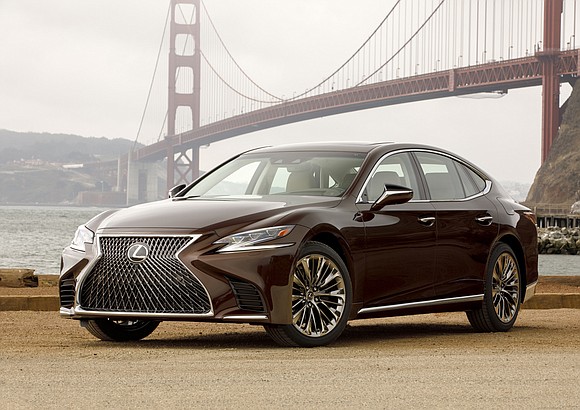 The first thing I noticed about the 2019 Lexus LS 500 when they dropped it off was that it seemed heavier than when I drove it in San Francisco during its launch.
The feeling of being heavier didn't mean that the car was sluggish, bigger or slower for that matter. It was powered by a new 3.5-liter twin turbo V6 that made 416 horsepower and 442 pound-feet of torque. It was mated to a ten-speed automatic transmission.
Not that it matters with a car that retails for $103,635 but mileage was not bad for a full-size sedan with this kind of power. The LS 500 AWD was rated at 18 mpg in the city, 27 mpg on the highway and 21 mpg combined.
Lexus's new flagship LS 500 had an all-new platform. That gave it a lower profile. It was longer, lower and sleeker with a longer wheel-base than the outgoing LS. The car had the brand's signature spindle grille which looked even more prominent with the long hood and short trunk.
Cold weather tends to slow traffic down, even on dry pavement. I didn't do any hard accelerating, sharp cornering or stressed related braking. And the full size LS sedan had all the condiments that you'd expect in a full size luxury car. I'll get into some of that a little bit later.
After three or so days of driving around, I had forgotten about the feeling of extra weight but I had figured out where it came from. This Lexus LS 500 had all-wheel-drive and that added roughly 200 lbs. more to the rear-wheel-drive model that I had tested in San Francisco. I could give somebody a big smooch because of it.
When I woke up on Saturday it was snowing. According to the weather folks it had been snowing since 2:30 a.m. and it continued to snow until 4 p.m. maybe longer. That made for slush and rut-filled streets initially.
Then it started getting colder; I'm talking single digits. When it does that after lots of snow, the frigid temperatures transform the stuff into something akin to sawdust. It's soft, it looks fluffy and it is dry. No moisture but it is still easy to get stuck in the dry mush.
About that only thing that I was miffed about was that I couldn't find out that much information about the Lexus 500's all when drive system. It was a full time all-wheel drive setup but I could not find out how much torque went to the front wheels or whether it was scalable depending on slippage.
But I can tell you this: my LS 500 AWD was solid in the snow, slush and sawdust and I never changed the drive mode. There was very little slippage and when there was the car got back on track in a few seconds.
In these kinds of conditions, hard acceleration or hard braking would be lunacy. Lane departure warnings or gentle corrective steering was not happening because there were no lanes for the camera to identify me crossing over.