Laugh Out Loud Comedy Tour
7/2/2019, 7:28 p.m.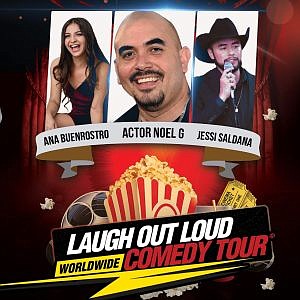 Laugh Out Loud Comedy Tour welcomes Noel Guglielmi (aka Noel G) to the stage in Joliet and this month as host of a popular national comedy road show that gets fans roaring for more from its largely Hispanic talent including rising star Ana Buenrostro and the hilarious Jessi Saldana. Most know the recognizable Noel G from blockbuster films such as Fast & Furious 1 and 7, Training Day with Denzel Washington, and Bruce Almighty with Jim Carrey.
More recently, he was cast in the Clint Eastwood film The Mule, George Lopez' El Chicano and Dragged Across Concrete with Mel Gibson and Vince Vaughn. While commonly cast as a gangster cholo (often named Hector by pure coincidence), the 25-year Hollywood veteran loves a laugh and is no stranger to comedic roles such as the tv series Fresh Off the Boat, loveable web series Food Stamps and on stage as both a host and stand-up comedian in his home state of California and beyond.
Share a laugh with Noel G, fellow comedians and fans during the Laugh Out Loud Comedy Tour stops in: Joliet, July 6, 2019, 9pm - 11pm Joliet Bicentennial Park Theatre, 201 W. Jefferson St. Tickets start at $20 for general admission and VIP packages are $40, including up-front seats, munchies, front-of-the-line access, pop-up shop discounts and the opportunity to meet the comedians and host Noel G in person.