South Suburban Region Chamber kickoffs 1st annual celebration
7/2/2019, 11:01 p.m.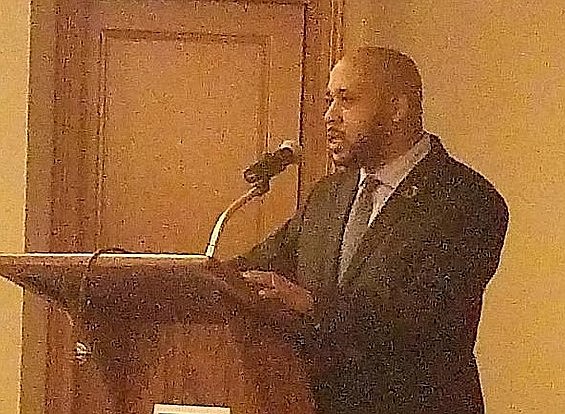 While America prepared to celebrate the Fourth of July holiday this weekend, members of the South Suburban Region Black Chamber of Commerce held their 1st annual Juneteenth Celebration. "Juneteenth is a special day for members of the African American Community," said Cornel Darden, Jr., the organization's President and CEO at their Kickoff event at the Harrah's Casino-Joliet, Saturday, June 29.
With Keynote Speaker, Harry C. Alford, President and CEO of the National Black Chamber of Commerce and special remarks by Larry Ivory, President and CEO of the Illinois Black Chamber of Commerce, and event sponsor Randy Conroy, General Manager of Harrah's Casino in attendance, the evening was well attended by the business community.
For those unfamiliar with Juneteenth, this is the day, June 19, 1865, when Union General Gordon Granger arrived in Galveston, Texas, the state of Texas being the last stronghold of the south, to inform Blacks that they had been freed under the Emancipation Proclamation, which had been signed by President Lincoln two years earlier in 1862. "Juneteenth marks the day that all Blacks people in the United States were finally aware that they were truly free," said Wasi Young, Youth Supervisor at Becoming A Man, a youth development program for at -risk teens on Chicago's far south side. "The Black Community should celebrate this day right along with all of the other national holidays because of this special meaning."
The South Suburban Region Chamber of Commerce and Industry is an institution that strives to grow and sustain businesses throughout the area. The organization is committed to diversity and inclusion throughout the South Suburban Region, which covers Will, Grundy Counties, Southern Cook County and Kankakee County.
With strains of both the National Anthem and the Negro National Anthem, "Lift Every Voice and Sing," penned by brothers James Weldon and John Rosamond Johnson in 1905," the organization used its kickoff banquet to honor those who have done the most to promote the chamber's lofty goals though out the year.
Dr. Eric Wallace emceed the program and attendees were treated to the lighthearted comedy of Felecia Hollins.
Among those honored were Stephen J. Balich and Fred Tetter for Legislative Outreach, Pastor Herbert Brooks Jr. Pastor of Joliet's St. John M.B. Church and Democratic Caucus Chair of the Will County Board as Trailblazer, Pastor Corey Brooks, Project H.O.O.D., Humanitarian, Terry Morris of Minor Morris Funeral Home and Michael Taylor of Taylor Media as Business of the Year, and President Deborah Upshaw and the Membership of National Hookup of Black Woman for Community Outreach. Finally, Dorothy Odell Foster, Director of Government Affairs, Nicor Gas, who received the Madam CJ Walker Lifetime Achievement Award.
Among the most touching remarks of the evening was the acknowledgment of Wasi Young, Youth Supervisor of Becoming A Man, who President Darden credited with guiding him to productive summertime activities such as an arts studies program at the Art Institute of Chicago, during his teen years. "I grew up in Altegeld Gardens where summer can be a dangerous time for teenagers. I almost begin to tear up when I think of how much Wasi Young's guidance has meant to me and my development to where I am today."
Among the many sponsors for the event were The Times Weekly, TC Energy, TransCanada Charitable Foundation, Helene and Joe Walsh Harrah's Casino-Joliet, Roger C. Claar, Mayor-Village of Bolingbrook, The Hub Club, Insure It Insurance for Home and Auto, and Minor-Morris Funeral Home, LTDF. Additional Sponsors include Bob O'Dekirk , Mayor of Joliet, LOVE'S, Joliet Junior Collect, Pat Mudron, Councilman, Nicor Gas and Buffalo Soldiers-Joliet, among many others.