The 7th Annual Plainfield Really Really Free Market
Your One-Stop Shop to Unclutter Your life, Help Your Neighbor, & Save Our Earth!
7/15/2019, 10:34 p.m.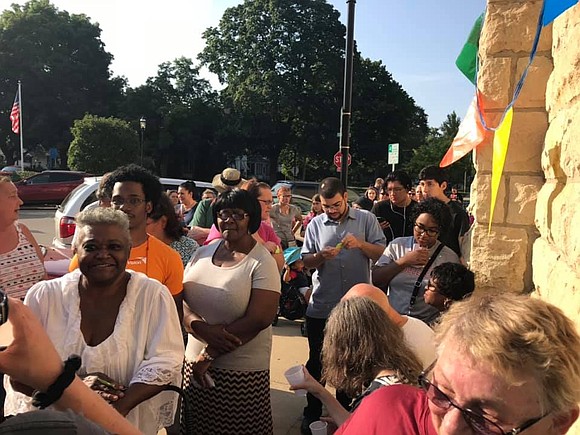 Plainfield United Methodist Church's (PUMC) Green Team Small Group will be hosting their 7th annual "Plainfield Really, Really Free Market" on Saturday, August 3rd from 830 a.m. until 3 p.m. at Plainfield United Methodist Church.
Seven years ago, the PUMC Green Team was formed with the vison of introducing programs and education to encourage the PUMC congregation members to be engaged in recycling, composting, water conservation, and other environmental initiatives. They partnered with friends from Will County Green, Sharefest New Lenox, Faith in Place, and Conservation Plainfield to further these plans. As a result, the idea of hosting a "Really Really Free Market" in Plainfield was born.
Since beginning this annual community event in 2013, the PUMC Green Team has introduced the concept and mission of the "Free Market" to over a thousand neighbors throughout Will and surrounding (DuPage, Cook, Kane, Grundy and Kendall) counties. We are thrilled to see our neighbors in towns such as Minooka and Joliet carry on this idea now!
The general concept of any "really really free market" is simple: you bring or donate things you do not need or want any longer and take whatever you do need.

The mission of the really really free market was expanded to include how we all "come together as a community to redistribute items that are no longer needed or wanted to put those items directly into the hands of those who can use or need them. Its purpose its threefold- help the environment, reduce our clutter, help those in need," said Carol May, one of the volunteer/organizers of the event.
On this day you will find it is a great place where the community can come together for fellowship and help each other.
And as a bonus, will are partnering with businesses to offer our first ever job fair, which will be held on the second floor during the event- including Rich's Foods, Teledyne Storm Microwave, Cornerstone Services, and U.S. Census Bureau! So, for the treasure seekers and job seekers, this is the place to be on Saturday August 3rd!
Many local businesses and organizations do their part as well, by supporting and promoting the event with flyers, posters, and food donations for the participants.
If you would like to donate your "stuff" that can become someone's treasure, bring items to:
The Village of Plainfield will begin collecting donations on July 15th at 24401 W. Lockport St, Plainfield Hours Mon-Fri 7:30AM-5PM
The PUMC Church will begin collecting donations on July 15th at 15114 S. Illinois St., Plainfield Hours Mon-Thurs 9:00AM-1PM
Like our Facebook Page and Event! https://www.facebook.com/plainfieldfreemarket