Connor fights to stop sudden rate spikes from big insurance companies
7/15/2019, 10:39 p.m.
State Rep. John Connor, D-Lockport, is combating outrageous rate hikes from big insurance companies by passing legislation which prevents them from taking advantage of their customers with sudden and unfair premium increases.
"Reliable, affordable medical care is the bedrock of a community, and we have to make sure big insurance companies aren't putting corporate wealth ahead of our health," Connor said. "People need to be able to count on consistent care to live stable lives. Families should never have to worry about rates that may skyrocket and leave them unable to afford health insurance; restricting access to key medical treatments."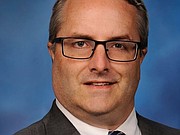 Connor voted to pass House Bill 471, which requires insurance companies to submit all proposed premiums to the Illinois Department of Insurance for review. The department would review any proposed increases and have the power to reject any increase deemed unreasonable, prohibiting the insurance company from putting those rates into effect.
"Insurance companies look for ways to provide less medical coverage for higher premiums and deductibles, because that results in greater profits for their shareholders. But this behavior creates a huge financial burden on families who are just trying to afford their doctors," Connor said. "This bill will protect everyday Illinoisans from health insurance providers who see medical care only in terms of a profit-to-loss ratio. Not spiking insurance rates while still keeping people healthy is a crucial part of my pledge to build a stronger Illinois."