FILM REVIEW: Toni Morrison: The Pieces I Am
Dwight Brown Film Critic | 7/16/2019, 7:48 p.m.
There are other incidents reported by Morrison that underline the shaping of her values, views and desire to write books that could change social mores: Her mother made her erase the word FU-- off a sidewalk. Why? "Because words have power." Rather than keep this and other life lessons to herself, Morrison has shared them consistently in novels, essays, lectures at universities, on TV—wherever a platform could assist her: "The only way I can own what I know is to write."
The writer-turned-editor-turned-novelist stood up to anyone who had a misconception about black literature and who it was written for or how it should be received. She ripped preconceived notions and fallacies apart by revealing the problem: "The assumption is that the reader is a white person." She put that misguided viewpoint to bed.
Morrison seems at peace with the battles she's fought—or that were fought for her. Her history growing up in an integrated city undoubtedly forged her persona. Even with that multicultural background raising her consciousness, she had to disavow some of the misconceptions she was getting from home, to become the person she is today: "My father thought all white people were unredeemable."
Throughout her career, she has been championed and loved by both blacks and white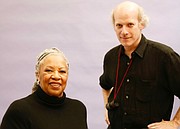 Director Timothy Greenfield-Sanders (The Black List: Volumes One to Three) pulls together an interesting group of fans and friends who have witnessed Morrison's rise and have praised her: Decades-long editor Robert Gottlieb; fellow novelist Walter Mosley; activist Angela Davis; and essayist Fran Lebowitz. There are also glimpses of legendary poet Sonia Sanchez, Winfrey and others.
The archival footage, photos and newly shot interviews on-view look clear (Graham Willoughby cinematographer), neatly pulled together (Johanna Giebelhaus, editor) and are properly highlighted by a beguiling score (Kathryn Bostic, composer).
The first documentary to genuinely explore Toni Morrison's ascendance into the upper pantheon of the literary world does a nice job revealing her wonderful persona, uncovering her backstory and establishing her firm place in American history in a way her followers will appreciate, and others will admire.
Visit NNPA News Wire Film Critic Dwight Brown at DwightBrownInk.com and BlackPressUSA.com.