New speakers at Veggie Fest
7/22/2019, 8:01 p.m.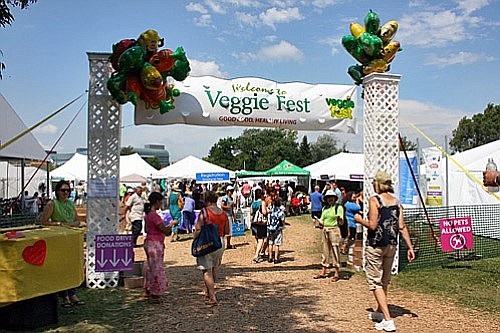 Veggie Fest Chicago, now in its 13th year, is one of the largest vegetarian food and wellness festivals in North America. The two-day festival, which drew record-breaking crowds from around the world in 2017 will be held on August 10 and 11, 2019, from 11:00 am to 8:00 pm, at our new location, Danada South Park at Navistar Drive, Lisle, IL This year Veggie Fest will have over twenty prominent speakers on healthy living. Among them are: John Salley, four-time NBA champion and former Chicago Bull, is a vegan and wellness advocate speaking on Elite Athletes on the Plant-based Diet: Saturday, August 10that 4pm in the Main Tent. We are also jazzed about local Chicago doctor of Rehabilitative Medicine, Dr. Kenny Duggal, whose talk, Eat Green, Get Lean takes place on Sunday, August 11 that 4PM in the Main Tent. John Salley went to Chicago to play with Michael Jordan as part of the Bulls' 1996 championship team.
In 1999, Phil Jackson invited Salley to Los Angeles to provide experience and leadership to the 1999-2000 Lakers' championship team. A few years after his retirement from the NBA in 2000, Salley adopted a plant-based (raw vegan) lifestyle, and is a frequent speaker at VegFests across the USA. As a Wellness Advocate, one of John's missions in life is to continue to educate people on the benefits of living a healthier lifestyle thru better eating habits. A long-time Bull's fan, Dr. Kenny Duggal has lectured worldwide on wellness, nutrition, and meditation as modalities to optimize health and increase your zest for life. Contributing author to Meditation as Medication for the Soul, Dr. Duggal is an Assistant Professor in the Department of physical medicine and Rehabilitation at Rush University Medical Center and a board-certified specialist in the field of Physical Medicine and Rehabilitation (Physiatry).

With a huge international food court; health professionals speaking on diet, lifestyle, and environmental issues; engaging food demos by restaurant owners, chefs, and authors; an incredible children's tent with face painting, kids' parade, and crafts; live music from some of Chicago's best bands; over 100 vendor booths on healthy living to explore, Veggie Fest has become a highly anticipated summer event in the Chicagoland area. Admission and parking are both free. For more information about Veggie Fest Chicago, visit us online: www.VeggieFestChicago.com Science Of Spirituality