2019 Genesis G70 AWD 3.3T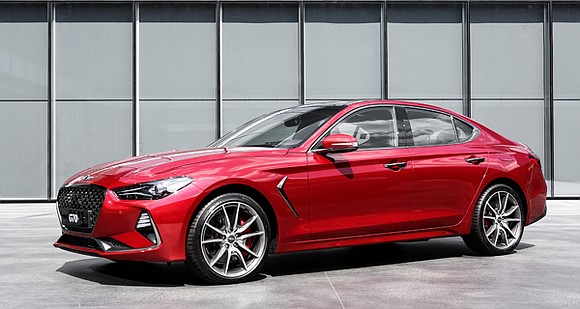 Switching from a trim line to a brand, especially a luxury brand, has proved to be a challenge for Genesis. The automaker started by launching luxury sedans when market tastes switched to crossover and utility vehicles. But Genesis had to follow its development plans and we've seen the launch of three top notch luxury sedans. What's more the last one, the G70, may be the best of the lot.
We had the 2019 G70 AWD 3.3T. This car will grow into the epitome of a luxury sport sedan. It was powered by a 3.3-liter dual turbocharged V6 that made 365 horsepower and 376 pound-feet of torque at 1,300 rpm. It was mated to an eight-speed automatic transmission with paddle shifters and rev matching.
The car was capable of getting from a standstill to 60 mph in just 4.5 seconds. When dealing with speed, braking becomes even more important. The test car had a set of Brembo performance brakes. They had four-piston front and two-piston rear calipers, which gave the G70 great stopping power and good fade resistance, thanks to 13.8-inch ventilated front rotors.
And speed and fuel efficiency don't normally go together. The G70 AWD 3.3T got 18mpg in the city, 25 mpg on the highway and 20 mpg combined.
This G70 was lightning fast and the brakes gripped with authority and slowed the car down in quick order. It had launch control, which went unused as did the drive modes; it stayed in comfort for most of the week-long test drive.
There were five choices. The adjustable elements include: powertrain response, steering weight, engine sound, all-wheel drive torque distribution, and suspension firmness. Custom-drive mode further adjusted a variety of vehicle parameters to suit preferences or driving conditions.
We noticed the suspension kept the G70 on track even in curves which we took at ever increasing speeds. There was rack and pinion power steering in the front and motor driven power steering in the rear. That meant four-wheel steering.
All G70 models ride on a MacPherson multi-link front and multi-link rear suspensions with a performance-oriented geometry.
The 3.3T model had a dynamic package that included a mechanical limited slip differential that improved traction by balancing torque distribution across the rear axle when wheel spin was detected. The G70 3.3T models also featured variable gear ratio steering. The car's mass was managed by various aluminum components, including an aluminum hood. Handling was exceptional.
It seems like Genesis is targeting a German luxury brand known for its driving prowess.
The G70 had a long hood, short rump, short overhangs and high beltline. Genesis said the car had a sleek profile, indeed, it did look slick. Curves and smooth surfaces were prevalent from the side view. It had the Genesis Crest Grille with linear LED headlights and daytime running lights.
The G70 was really comfortable inside. The interior was swathed in quilted leather and well placed brushed aluminum surfaces. There was a 15-speaker premium audio system with stainless steel speaker grilles and external stitching.
There were heated and cooled front seats as well as heated rear seats. A 16-way power driver's seat and a 12-way power passenger seat provided plenty of comfort and support for front passengers. There was plenty of head and legroom in the back seats.
Our test car was equipped with a moonroof, it had push button start and stop as well as push button lock and unlock. The heads up display was chock full of information. It included speed, navigation directions and adaptive cruise control settings, as well as indicators for blind spot collision warning, lane keep assist, and forward collision avoidance-assist.
There were the normal creature comforts: satellite radio, streaming, voice controls and Bluetooth. A power tilt telescoping steering, smart cruise control with stop and go capability, Apple CarPlay, Android Auto, three USB ports and a hands free smart trunk with auto open were part of the package.
The 2019 G70 AWD 3.3T is Genesis' entry level luxury car but it seems like a lot more. For $50,995, it had a bunch to offer and that is needed in one of the most competitive segments, entry luxury performance sedans, of the market.
Frank S. Washington is editor of AboutThatCar.com