UChicago Medicine rises to No. 2 in Illinois on U.S. News' list
7/31/2019, 6:02 p.m.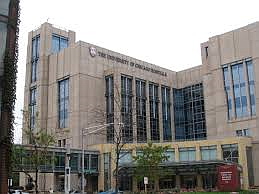 The University of Chicago Medicine moved up to No. 2 in both Chicago and Illinois in the latest U.S. News & World Report rankings of the country's best adult hospitals. Last year, the Hyde Park-based academic health system was ranked 4th in both the city and state. Six UChicago Medicine specialties made the national Top 50 list as part of the 2019-20 rankings that were published July 30.
Each ranked specialty earned higher scores than the previous year. Another three specialties were considered "high performing," which means their scores were in the top 10% but not high enough to make the top 50 list. For the 12 data-driven specialties in the U.S. News survey, UChicago Medicine's rankings are as follows:
· Cancer care rose to No. 31, from No. 33 last year.
· Ear, Nose, Throat was listed at No. 36 (not ranked in 2018-19).
· Gastroenterology & GI Surgery moved up to No. 22, from No. 47.
· Gynecology was listed at No. 34 (not ranked in 2018-29).
· Nephrology improved to No. 31, after being listed as "high performing" last year.
· Urology jumped to No. 32, from No. 45.
· Our three high-performing specialties were Geriatrics, Neurology & Neurosurgery and Orthopedics.
U.S. News compiled the rankings after lengthy data analysis of 5,000 medical centers across the country. The magazine also surveyed thousands of physicians to develop the report. The magazine also evaluates how well hospitals perform in certain medical procedures and conditions — like hip replacement and heart failure. Those evaluations produce ratings, not numerical rankings. Hospitals that treated enough patients to be evaluated are rated as "high performing," "average" or "below average."
In this "procedures and conditions" category, the Medical Center is listed as high performing in these five areas: chronic obstructive pulmonary disease (COPD), colon cancer surgery, lung cancer surgery, abdominal aortic aneurysm repair, and congestive heart failure. The same group received the top mark last year. Tuesday's results come on top of the 15 consecutive A grades in hospital safety UChicago Medicine earned from the Leapfrog Group_ earlier this year. The University of Chicago Medicine, with a history dating back to 1927, is one of the nation's leading academic health systems. Twelve Nobel Prize winners in physiology or medicine have been affiliated with the University of Chicago Medicine. Together with Ingalls Memorial, Univ. of Chicago Medicine has 1,286 licensed beds, nearly 1,300 attending physicians, about 3,200 nurses and over 1,100 residents and fellows.