Joliet School District 86 assistant Superintendent tapped as Illinois ASBO director
6/4/2019, 3:01 p.m.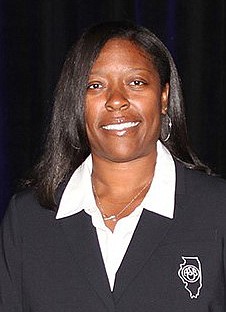 Tamara L. Mitchell, Assistant Superintendent of Business and Financial Services at Joliet Public Schools District 86, was officially instated onto the Illinois Association of School Business Officials (ASBO) Board of Directors at the Association's 2019 Annual Conference and Exhibitions in May.
Board service is the highest level of involvement in Illinois ASBO and as a board member, Tamara will be part of strategic conversations and professional development opportunities that can ultimately benefit the students in District 86.
During Tamara's decade of involvement with Illinois ASBO, she has been vital in producing valuable content by being an active member of the Legal Issues Professional Development Committee and Liaison to the Online Professional Development Task Force. She says, "Applying for the Board was the next logical step for me in terms of service. I have watched the organization grow and adapt to change over the years and have always appreciated the relevance and timeliness of everything presented by Illinois ASBO."

Tamara is thrilled to represent District 86 on the Illinois ASBO Board and shares, "I am most looking forward to being able to give back to Illinois ASBO because I have received so much during my time as a member and in the school finance field. I know there is a mission to continue Illinois ASBO's legacy of relevance and I am very excited to be part of that. I truly would not be the school business officer that I am today if not for the impact Illinois ASBO has made on both my professional and personal growth. I am extremely proud and equally humbled to serve on such an esteemed Board."
Tamara will serve a three-year term on the Board beginning in July.