Joliet Central student wins two titles at Summit
6/12/2019, 2:42 p.m.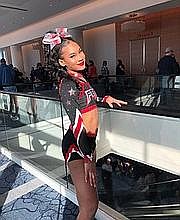 Walking around the halls at Joliet Central, you will find sophomore Charvone Carter, an Elite Allstars Worlds and Summit champion. This past May, Carter competed in Orlando, Florida at both the Summit and Worlds Championships on three different teams, winning two titles.
Carter has been cheering since she was two years old. She began cheering at the elementary school where her aunt taught and coached cheer. At 8 years old, she joined a youth cheer team through the Joliet Park District where she continued developing her tumbling and stunting skills. Cheerleading was her passion and she decided to take it to the next level. Carter joined Gym Tyme Illinois in 2016 where she made it on to the team Twist, which is a level 5, female team. The following year, Carter was put on two teams, Twist the level five team, and Fever, a level six co-ed team. She also started her coaching career that same year and has coached the Lovebugs, a tiny level one team for the past 2 years.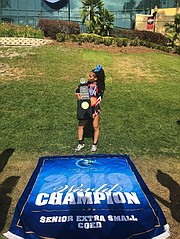 For the 2018-2019 season Carter was on three teams and coached the Lovebugs again. "She literally spends over 25 hours a week at the gym and celebrated much success on each of these team taking first at almost every competition they attended," said Lemberg.
Each of the teams that Carter was on earned a bid to compete at the national level in Orlando, Florida. Two of the bids, were paid bids, the highest honor a team can achieve at that point. Fever attended the Worlds Championships in which Carter's team took home 1st place and Carter became a World Champion. The following weekend she competed again at the Summit National Championship with two teams. With her team Twist, Carter once again took 1st place and became a National Champion. "It was quite the experience for her and an awesome way to close out the season," said Lemberg.
In addition to her championships, Carter was 1 of the 50 people chosen from around the world to become an Nfinity Legend. She had to submit video evidence of her skills and abilities. As a Legend, Char will travel around the country promoting the brand, attending camps, and attending photo shoots. She is looking forward to the 2019-2020 season which has already begun and defending her Worlds and Summit Championships next spring.