Washington Junior High students score top business proposals
6/12/2019, 2:35 p.m.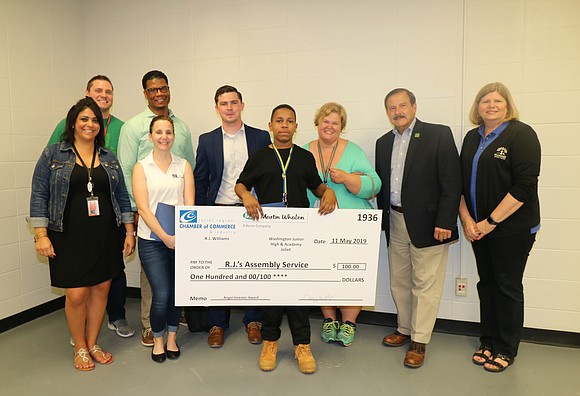 Four student groups from Washington Junior High were surprised with Angel Investor Awards for having one of the top six business proposals on display at the Joliet Region Chamber of Commerce Youth Entrepreneurship Club Expo. These students were among 70+ middle school student teams from the Joliet area that showcased their business concept at the 8th annual event held at the University of St. Francis.

The winning teams at Washington included:
• Artside the Box -Liliani Franchini, Arianna Gonzalez, Lorelai Johnson, Gabriela Ruiz-Sanchez
• Go Track -Brandon Huerta, Jailyn Avila
• R.J.'s Assembly Service -R.J. Williams
• Storybook Soaps -Bethany Yanchick, Ruby Standfield, Diana Jauregui, Hope Hughes
Each of the groups received a $100 award. The money will be used for the Washington Entrepreneurship Student Clubs for the 2019-2020 school year.

Washington Junior High Principal Rolland Jasper, Washington Assistant Principal Nicole Bottigliero, Washington teachers Jessica Barwa and Ryan Martinsen, Joliet Region Chamber of Commerce Director of Member Events Kelly Baltas, First Community Financial Bank Vice President Mark Griglione, Dan Balog from Martin Whalen, Debbie Reed from Numark Credit Union and Larry Wiers, school partnership director at Lewis University and chairman of the Expo event were on hand for the surprise presentations.
Additional District 86 students that participated in the Entrepreneurship Expo included: Dirksen Junior High: Savannah Ortiz; Gompers Junior High: Luis Becerril, Citlaly Garibay, Maria Plascencia, Jesus Ramirez; Hufford Junior High: Gustavo Garcia, Pilar Reynoso Mendoza and Washington Junior High: Andy Aguirre, Evert Alvarado, Jesus Avila, David Bottia-Forero, Charon Cage, Andy Granados, Braiden Guiher, Diego Gutierrez, Aaron Guzman, Isaiah Jones, Isaiah Kan, Julian Landeros, Santiago Martinez, and Mickey Webber.
Teacher sponsors from Joliet Public Schools were Stefany Manis, Kelli Rozak, Anna Tor (Dirksen Junior High); Alita Guerrero (Gompers Junior High); Ashni Mehta, Dan Schultz (Hufford Junior High); and Jessica Barwa, Ryan Martinsen, Samantha VanDenHandel (Washington Junior High).