Reception for New JTHS Superintendent planned
6/18/2019, 9:45 p.m.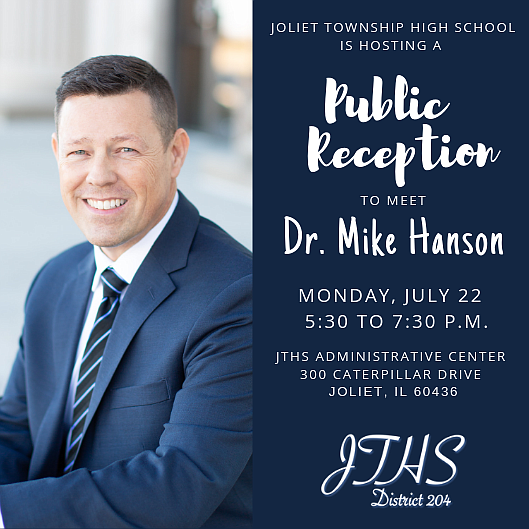 Joliet Township High School District 204 will host a public reception on Monday, July 22 from 5:30 to 7:30 p.m. for the community to meet Dr. Mike Hanson, the new superintendent for District 204. The reception will be held at the JTHS Administrative Center located at 300 Caterpillar Drive in Joliet. Dr. Hanson will present a welcome at 5:30 p.m. followed by an informal meet and greet where guests can come and go.
Dr. Hanson comes to JTHS from Hill City School District in South Dakota, where he served as superintendent for over 7 years. Prior to serving as superintendent, Dr. Hanson worked his way through the ranks in the roles of teacher, curriculum director, assistant principal, principal, and superintendent. His vast resume includes over 24 years of educational experience with leadership roles in strategic planning, instructional design, and implementation of safety and security protocols using the ALICE framework.
"I look forward to working in partnership with our staff, parents, students, and community to uphold the tradition of excellence that has been established at Joliet Township High School," said Dr. Hanson. "This public reception is the first of many community engagement activities planned to give me an opportunity to listen to our community and learn the diverse needs of the district."