Joliet City Council looking to interview Jim Hock for interim city manager job
Megann Horstead – news@thetimesweekly.com | 6/26/2019, 3:49 p.m.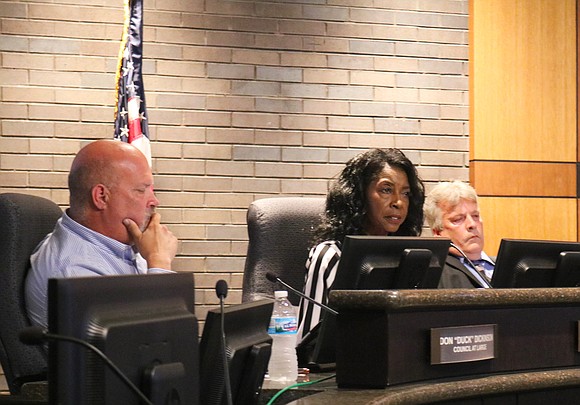 The Joliet City Council at its special meeting this week decided to open up discussion on a search for a new interim city manager.
Last week, officials authorized the removal of the interim city manager position from Marty Shanahan.
Voting to remove Shanahan as interim city manager were Councilmembers Pat Mudron, Don "Duck" Dickinson, Mike Turk, Sherri Reardon and Bettye Gavin.
The name of former City Manager Jim Hock came up in discussion last week for the interim city manager job.
Councilman Larry Hug questioned why Mudron would call Hock prior to the city council's vote regarding the interim position.
"You must've known [Shanahan] was going to be voted out," he said. "Why did you call before the vote?"
Mudron tried to explain, saying he didn't see reason to wait.
"We've had conversation for six weeks plus about opening up the process and why it would be a problem for current employees to open up the [hiring] process because the employees work for [Shanahan,]" he said.
O'Dekirk said some people were given the impression the position was handed to Hock.
Mudron denied that he offered the job to Hock.

Mayor Bob O'Dekirk wanted to set the record straight.
"I think what threw some people for a surprise or for a loop was when [Mudron] presented the motion you wanted to consider hiring Jim Hock," he said. "Considering Jim Hock for the position, we've had no discussion about if we're going to have an interview process for this."
O'Dekirk called into question the logic of requiring Shanahan to interview for the job.
Shanahan was hired as corporation counsel by the city in 2015. He has stepped up to fill in as interim city manager twice with the departures of Jim Hock in 2017 and David Hales in 2018.
The city has filled positions in the past when vacancies arose without conducting an outside search for candidates. Both Police Chief Al Roechner and Public Utilities Director Allison Swisher were promoted from within to their current jobs.
Hug wanted Shanahan to prove himself as the best available candidate for the permanent city manager position, which he said Shanahan accomplished during his second stint in the interim role.
Hug said it is disingenuous for council members to say they needed to remove Shanahan as interim city manager in order to complete a search.
The council came to an agreement to perform a search to fill the vacancy earlier this month during a closed session meeting, officials said.
Several officials contend that they couldn't have a fair search process with Shanahan serving in an interim role, but others disagreed.
O'Dekirk said there are things that don't add up.
Hug urges the city to release tapes from closed session meetings for the dates in which the council discussed the removal of Shanahan as interim city manager.
Several officials said they could support Hug's request.

Gavin said she wants the council to start working together.
"I am disappointed in my city leaders, which includes myself," she said. "I don't know where I got the impression that I lived in a Democracy, and in that Democracy, we all have opinions. We state those opinions, but it seems to me that the comments and the things that are going on in the past few weeks about this has brought out the vitriol in people."