NASCAR summer festival at Chicagoland speedway activities, entertainment
6/26/2019, 4:15 p.m.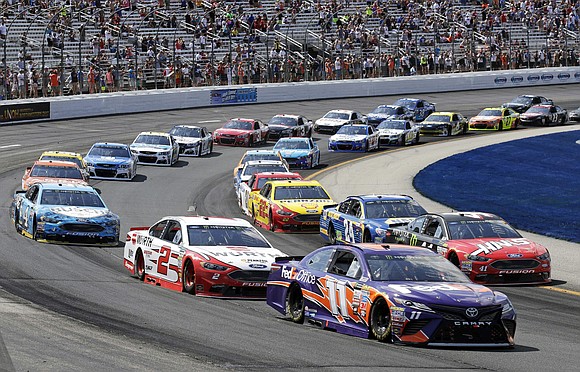 the Infield Campgrounds with funky, fresh blues, soul and rock from local favorites Cadillac Groove. And on Sunday, join one of Chicago's most in-demand show bands, the Blooze Brothers, in the Infield Fan Zone for an exciting and energizing performance of traditional blues and classic rock.
On Sunday, Brice will pass the mic to the "Gold Standard" Jim Cornelison who will once again headline the patriotic tribute with his iconic rendition of the "The Star Spangled Banner." Cornelison has been performing the anthem at Chicagoland Speedway since 2013 and is better known as the "Gold Standard" for his iconic rendition of the ballad.
Official Pace Car Driver
Nine-time AMA Motocross/Supercross National Champion Ryan Villopoto will serve as the official pace car driver for the Monster Energy NASCAR Cup Series Camping World 400 on June 30. Villopoto entered the NASCAR conversation back in January when he sent a message via Twitter and Instagram to seven-time Monster Energy NASCAR Cup Series Champion Jimmie Johnson to get his thoughts on bringing a pit bike race to Chicagoland Speedway during its NASCAR weekend. The conversation took off in the social world, bringing Chicagoland Speedway President Scott Paddock to green light the event.
Kids Activities
A full Carnival is one of the most notable fan enhancements in 2019. The carnival, a first at Chicagoland Speedway, will be set up in Champions Park, the ultimate pre-race fan experience in a park-like atmosphere with live entertainment and interactive displays, will be open Friday through Sunday. There will be family-friendly rides, multiple youth attractions and games including bumper cars, a Tilt-A-Whirl, Ferris wheel and more. The Carnival will be open late on Friday for fans to enjoy after post-race fireworks until 11:00 p.m. on Friday.
Friends from the Brookfield Zoo will be visiting the Kids Club display on Sunday. Fans will have a chance to win zoo admissions, play fun animal games and witness Mascot Animal Races happening throughout the day in the Kids Zone.
Chicagoland Speedway's mascot DASH will make regular appearances throughout the weekend and will be available for photos with fans. Face painters, bounce houses and much more will be available for kids each day in Champions Park located at the Kids Club display.
The NASCAR Foundation will bring its Speediatrics Fun Day Festival, which is dedicated to inspiring children to lead a healthy lifestyle, to the Chicago area for the first time on Saturday, June 29 from 9:30 to 11:30 a.m. Children in attendance will be treated to NASCAR-themed field day activities, a driver Q&A and healthy snacks to remind children about the importance of healthy eating habits and physical fitness. This health fair conducted during the heart of a race weekend enables more children to learn and practice the habits they need to stay healthy and active.
On Sunday, June 30 at 10:00 a.m., young fans will also have the opportunity to attend an autograph session, featuring Monster Energy Cup Series drivers Daniel Hemric, Paul Menard, Matt Tift and Ryan Newman. Additionally, Chicagoland Speedway's Kids Club Crew Chief Clint Bowyer will make an exclusive appearance for Kids Club members at 11:00 a.m.