NASCAR summer festival at Chicagoland speedway activities, entertainment
6/26/2019, 4:15 p.m.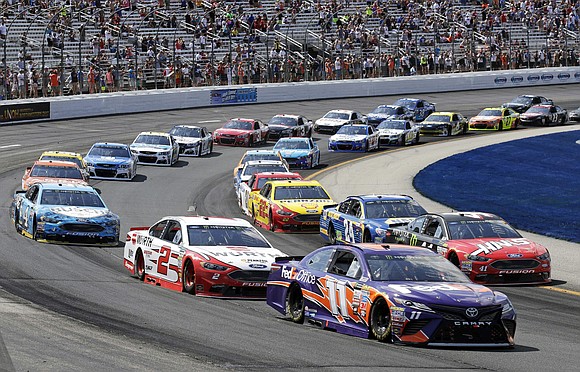 Rail Jam
Step Up Productions will once again add a thrilling element to the entertainment lineup, as their Wakeboard Rail Jam set up will be on display over the weekend. Fans will get up-close and personal with professional wakeboarders as they perform high-flying aerial tricks over the 50' gap that separates the takeoff and the 50,000 gallon landing pool.
Throughout the weekend there will be 11 performances at the following dates and times:
Thursday 6 & 7 p.m.
Friday 4:30, 6 & 7:30 p.m.
Saturday 10, 11 a.m. & 1 p.m.
Sunday 10, 11:30 a.m. & 1 p.m.
NASCAR Salutes
Beginning Memorial Day weekend and running through Independence Day weekend, the NASCAR industry will honor United States Armed Forces heroes and their families as part of NASCAR Salutes Refreshed by Coca-Cola - an industry-wide expression of respect, appreciation and reverence for those who have served the nation both past and present.
At noon on Friday, a Stars and Stripes-enhanced Monster Energy NASCAR Cup Series hauler parade will make its way through Gate 2, around the east side of the facility before entering the infield. The Joliet Police and Fire Departments will lead the way followed by the Chicagoland Speedway Pace Car chauffeuring an honorary veteran guest. Chicagoland Speedway Fire Safety Trucks with Chicagoland Speedway Mascot DASH, vintage Military Vehicles, Patriot Guard Motorcycle Riders, the Fallen Hero Memorial Hauler and more will accompany the parade as well.
Returning this year, under the NASCAR Salutes platform, the VIP Military Tent in Champions Park will welcome all veterans, active military, and their families on Saturday, June 29 and Sunday, June 30. Service men and women will enjoy shaded seating and a robust schedule of events, featuring private meet and greets, performances, and complimentary snack and drink service.
Saturday 9 a.m. - 5 p.m. (food and beverage served 10am-2pm)
Sunday 8 a.m. - 5 p.m. (food and beverage served 9am - 12pm)
RV Show
Ever consider camping with us, looking to upgrade or just eager to see what types/models of RVs are out there? Look no further as Chicagoland Speedway's Champions Park will host an RV Show presented by Camping World. Fans can also stopby any of the exciting sponsor displays in this area for interactive games and giveaways for the whole family. Plus, driver appearances and autograph sessions pop up at various sponsor displays throughout the weekend.
The Monster Energy NASCAR Cup Series race at Chicagoland Speedway will take place in June as part of the four-race weekend June 27 - June 30. The weekend will kick off on Thursday, June 27 with the ARCA Menards Series Bounty 150 followed by NASCAR Gander Outdoors Truck Series Camping World 225 under the lights on Friday night. On Saturday, the NASCAR Xfinity Series Camping World 300 will hit the track as the precursor to Sunday's Monster Energy NASCAR Cup Series Camping World 400 showdown.
To purchase tickets to any 2019 Chicagoland Speedway event, visit us online at www.ChicagolandSpeedway.comhttp://www.ChicagolandSpeedway.com, call 888-629-RACE
(7223), download the Chicagoland Speedway mobile app, visit the Chicagoland Speedway Administrative office or stop by the box office on the day of the event.
For the most current information about Chicagoland Speedway, follow us on
Facebookhttps://www.facebook.com/ChicagolandSpeedway
along with Twitterhttp://www.twitter.com/chicagolndspdwy and
Instagramhttp://www.instagram.com/chicagolndspdwy @chicagolndspdwy.