1978 Joliet West State Champion Girls Basketball Team reunites
3/5/2019, 9:44 p.m.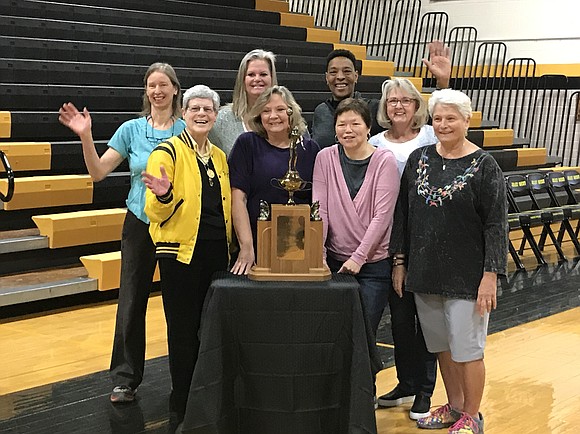 Forty years, fourteen-thousand six hundred days, seems like a long time, but no one has ever forgotten about the 1978 Joliet West girls' basketball team. The remarkable Lady Tiger's return for a reunion at Joliet West campus, where they once practiced countless hours, played numerous games, while working on achieving academic success. The team set many IHSA basketball records, concluding with the 1978 Girls State Championship.
The reunion started on Saturday evening at Illinois State during their halftime festivities, the gym where they won the state championship. The reunion concluded on Sunday afternoon, when the team returned to Joliet West. The former athletes include Mickey-Barnes-Vanderhyden, Belinda Beck-Meyer, Cathy Boswell, Kim Glasgow, Karen Hartman, Elaine Holpuch, Gina Michaelson-Lewellyan, Sue Nyi-Jay, Darlene Miner-Fabek, Joan Dames, and coaches are Connie Kozikowski, and Jo Streit.
The team holds the best three-year record of 75-7, which is unheard of for any sport teams. They held the best win percentage of District 204, with 92% over a three years span. They had an overall record of 29-2, the year they won the state championship in 1978. Brains and brawn were the team's nickname because they maintained a B+/A- high school academic average. In April of 2004, their team was inducted into the ISHA Basketball Hall of Fame.
Cathy Boswell, the All-State forward for the Lady Tigers had a magnificent career in high school and continued her athletic success in the collegiate level. Her most notable accomplishments are MVP of the Rich South Galaxy Invitational Tournament for two consecutive years, Illinois Elite 8 All-Conference Player, Joliet Herald News All Area Team, Chicago All-Area Team, All-State Team, AP State Tournament Team and UPI State Tournament Team. To top those achievements, Boswell was a member of the 1984 USA Women's Gold Medal winning Olympic Basketball Team in Los Angeles. When Boswell was asked what feelings she was experiencing, she expressed, "It is amazing to be back and see everyone. I'm thankful for the opportunity to reunite and celebrate this memorable accomplishment with my teammates and coaches."
Coach Jo Streit was the head coach of the Lady Tigers in 1978 and was able to mold the team into State Champions. Coach Streit was one of the best Girl team basketball coaches in District 204 with an outstanding record of 103-10. One of her greatest achievements along with winning a State Championship in 1978, was that she is two-time inductee into the Illinois State University Hall of Fame. Coach Streit related her heart felt thoughts on being back at West by stating, "I'm excited to be back here, some of my fondest memories are in this gym, what I remember most about coaching in this gym was how much the community supported our team."
Tiger Nation was honored to host this memorable 40th anniversary celebration. While the Lady Tigers concluded their weekend festivities, they recalled many fond memories of their high school days. Dr. Teresa Gibson, West principal, who helped coordinate the special event, gave her final thoughts, "West is where they grew up 40 years ago, It is very special for them to come back to the gym where they won, practiced for countless hours and played numerous games." This group of Lady Tigers will always hold a place in the hearts of all Joliet area basketball fans.