Beef and Spinach Shepherd's Pie
3/12/2019, noon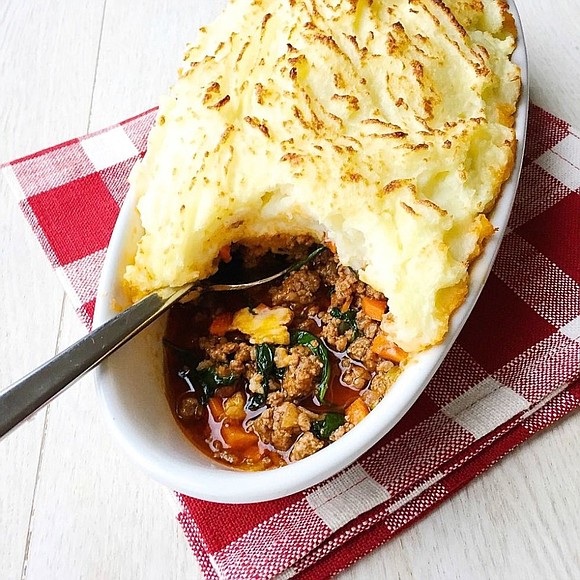 YIELDS: 4 / TOTAL TIME: 45 MINS
INGREDIENTS
2 lb. Russet potatoes (about 4), peeled and cubed
kosher salt
1 lb. lean ground beef
1 medium yellow or white onion, diced
2 carrots, peeled and diced
2 ribs celery, diced
2 cloves garlic, minced
2 tsp. fresh thyme leaves
2 tsp. chopped fresh rosemary
Freshly ground black pepper
3 tbsp. tomato paste
1 c. chicken broth
4 c. baby spinach
1 c. milk
3 tbsp. extra-virgin olive oil, plus more for drizzling
Green salad, for serving
DIRECTIONS
Place potatoes in a medium saucepan and cover with cold water. Season with salt. Bring to a boil, then reduce heat and simmer until tender, 12 to 15; drain and return to pan.

Meanwhile, in a large skillet over medium-high heat, brown beef, breaking it up with a wooden spoon, 5 minutes. Add onion, carrots, celery, garlic, thyme, and rosemary and cook until vegetables are soft, 5 minutes. Spoon out and discard any extra grease in pan and season with salt and pepper. Stir in tomato paste and chicken broth; let simmer until liquid reduces slightly, 3 to 4 minutes. Stir in spinach until wilted, 2 to 3 minutes.

Preheat broiler to high. Add milk to drained potatoes and bring to a simmer. Using a potato masher or fork, mash potatoes until smooth. Stir in olive oil and season with salt and pepper.

Spoon beef and spinach mixture into a medium-sized baking dish and spoon mashed potatoes on top. Use a fork to create texture on top (the potatoes will brown better) and drizzle with olive oil.

Broil until nicely browned on top, 2 to 3 minutes. Serve immediately with a green salad.