IRISH COLCANNON MAC AND CHEESE
3/13/2019, noon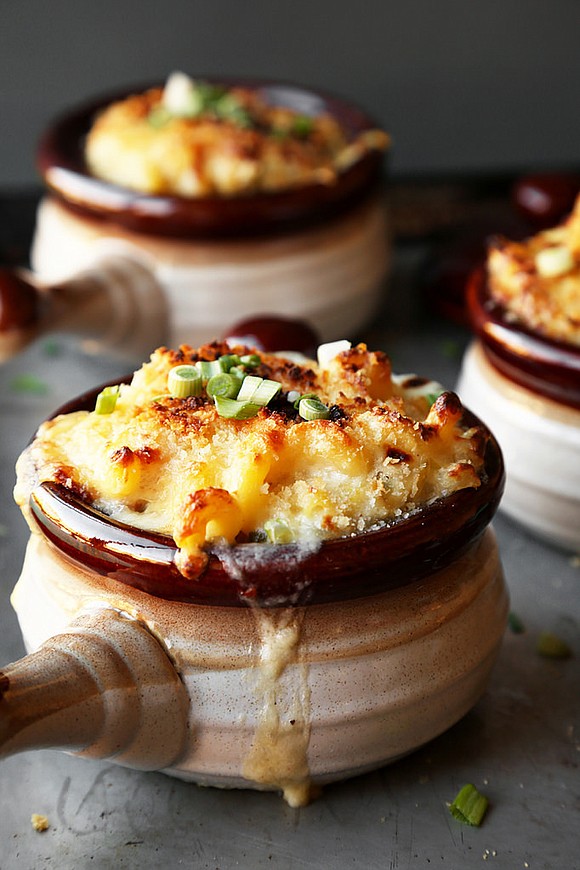 SERVINGS: 6 / TOTAL TIME: 45MINS
INGREDIENTS
• 8 slices thick-cut bacon, diced
• 1 large yellow onion, thinly sliced
• 3 garlic cloves, minced
• 4 cups shredded cabbage
• 2 leeks, sliced and cleaned
• 2 large baking potatoes, cleaned and cooked until fork tender
• 1½ teaspoons salt
• 1½ teaspoons black pepper
• ¼ teaspoon red pepper flakes
• ½ teaspoon paprika
• 3 cups whole milk
• 3 tablespoons butter
• 3 tablespoons all-purpose flour
• 1 cup Monterey Jack cheese, shredded
• 1 cup Sharp White Cheddar cheese, shredded
• 1 cup Havarti, shredded
• ½ cup panko or plain bread crumbs
• ½ cup scallions, sliced
• 1 pound elbow macaroni, cooked until tender
DIRECTIONS
Preheat oven to 350 degrees F.

Cook the potatoes in the microwave, in the oven or in a pot of boiling water until fork tender. Allow to cool down completely. Peel with a pairing knife and shred with a box grater. Set aside.

Heat a large pot over medium-high heat. Add the bacon and cook until crispy and browned. Remove with a slotted spoon and transfer to a plate lined with paper towels, to catch the excess fat. Remove all but 1 tablespoon of the bacon grease from the pot. Stir in the onions and garlic and sauté for about 5 minutes, until soft and translucent. Add the cabbage and leeks. Season with ¾ teaspoon salt, ¾ teaspoon black pepper, and the red pepper flakes. Stir and cook for about 5 minutes more until soft. Fold in the shredded potatoes and remove from heat. Transfer to a large bowl and set aside.

Place the milk in a medium saucepot and bring to barely a simmer, over medium heat.*

Return the large pot to the stove and place over medium-high heat. Add the butter and allow to melt. Whisk in the flour and cook for about 10 seconds to cook the flour a bit. Carefully pour in the warm milk, while whisking continuously until all of the milk has been added and the butter/flour mixture has completely dissolved. Lower the flame to medium and cook until thickened. Season with ¾ teaspoon salt, ¾ teaspoon black pepper and the paprika. Once thick, remove from heat.

In a medium bowl, toss together the shredded Wisconsin cheeses. Add the cheeses to the hot thickened milk, reserving about ½ cup for topping later on. Stir with a wooden spoon, until the cheese has melted. Fold in the cooked noodles, the cooked cabbage mixture, the crispy bacon and the scallions, until evenly combined. Pour the mixture into a 9x13 baking dish or into individual baking dishes and top with the breadcrumbs and reserved cheese. Bake for about 25 to 30 minutes, until bubbly. Place under the broiler for a few seconds to crispy up the top. Serve warm and garnish with sliced scallions on top. Enjoy!
*Tip: Warm up the milk in a saucepot before whisking it into the roux. This will allow the béchamel to cook more evenly and it'll thicken faster!