Dressing Up Joliet Downtown
Madhu Mayer – news@thetimesweekly. com | 3/13/2019, 2:24 p.m.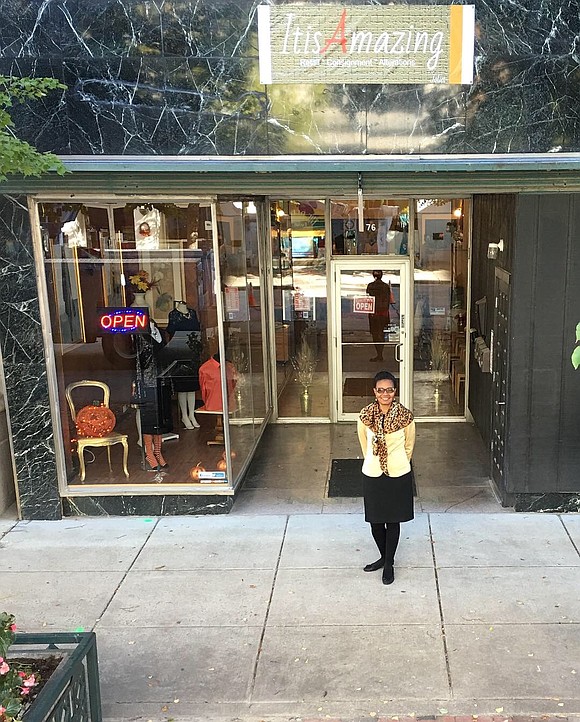 When Joliet resident Diane Harris opened her clothing store It is Amazing last year, she decided to locate in one of downtown's oldest structures that also holds special meaning to her.
In 1885, the late R.E. Barber decided he wanted to construct a modern office building on Chicago Street in downtown Joliet, an idea not all supported. But Harris now calls the building's main floor her home as the 2,000-square-foot store is located inside the historic building at 76 N. Chicago St. It is Amazing clothing store is located one block south of the Rialto Square theater and across the street from the Blue Taco and Chicago Street Grill.
Harris, who opened her store on May 17, 2018, said she has fond memories of downtown Joliet. When she worked at Joliet City Hall, Harris said she often frequented dress shops and restaurants during her lunch hour. One day when she was at the Wolfson's clothing store, she was approached about working there as she was such a regular. Harris did take the part-time job, but Wolfson's, like other dress shops in downtown Joliet, would eventually close when the mall opened.
"I have been in and out of retail for a long time on the shopping end," she said.
Now, Harris has noticed a turn in the industry as some retail stores in the mall have closed and more foot traffic has returned to downtown Joliet. But that also brings about challenges as online clothes shopping gains more in popularity. While she can see the convenience of online shopping, she said clothes are a complete different ballgame.
"I have never been an online shopper in terms of clothing," she said. "You have to feel the fabric. I like the fact when you are in the store, you can see how it fits and looks."
Harris, who is also a seamstress, said buyers end up paying more with online clothing purchases if they need to return it and pay for shipping costs. That is why she recommends everyone to try out clothing stores in their neighborhood first before clicking the mouse on the computer.
She adds that there is nothing better than picking out clothes in person at the store.
"I sell upscale, affordable clothing," she said. "A lot of my blouses have a little bling so after work, you can take the jacket off and transition to the evening."
Plus size items, blouses, skirts, prom, formals and mother-of-the-bride dresses are also available for purchase at It is Amazing. Alterations are available on site, as long as the clothing is purchased from her store. While she does sell Khaki pants, ties and shirts for men, Harris said she plans to upgrade her men's clothing line in the fall to include dinner jackets.
Harris plans to celebrate the one-year anniversary of her boutique by selecting up to three models of the year, who will be asked to post photos of themselves wearing items from It is Amazing on Facebook. Additionally, she plans to have drawings and offer discounts during the two-day celebration from 10 a.m. to 8 p.m. Friday and Saturday, May 17 and 18.
Regular business hours are 10 a.m. to 6 p.m., with the exception on Thursday and Sundays when It is Amazing is closed. But on days the store is closed, Harris said she does host special events where local entrepreneurs can introduce their business and promote their products, as long as it does not compete with It is Amazing.
For more information call (815) 582-4995.