Joliet Grade School 86 young authors
3/18/2019, 9:21 p.m.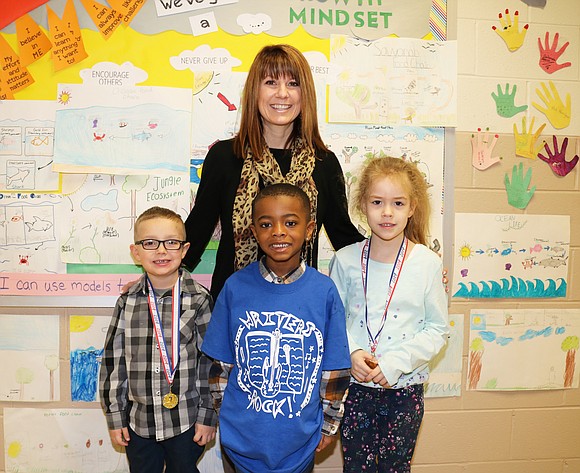 Congratulations to the students who were invited to the Joliet Public Schools District 86 Young Authors' Celebration. Over 1,300 students and parents attended the event held at Sator Sanchez Elementary School to honor "Rock Star Writers" in District 86. The students and families enjoyed two interactive presentations with authors, illustrators, and performers at the event.

Student manuscript winners from each District 86 school included: T.E. Culbertson Elementary: Emily Victor (4th grade); M.J. Cunningham Elementary: Roxana Perez (3rd grade); Eisenhower Academy: Colton Coughlen (3rd grade); Farragut Elementary: Donavan Layne (5th grade); Forest Park Individual Education (I.E.): Lily Dyche (2nd grade); Thomas Jefferson Elementary: Dylan Diaz (2nd grade); Edna Keith Elementary: Jade Cordova (5th grade); A.O. Marshall Elementary: Cristofer Hernandez (5th grade); Marycrest Early Childhood Center: Agustin Moreno (PreKindergarten); Pershing Elementary: Daniela Macias (5th grade); Sator Sanchez Elementary: Romeo Rojas (5th grade); Carl Sandburg Elementary: Taylor Vargas (5th grade);
Isaac Singleton Elementary: Tessa Cole (2nd grade); Taft Elementary: Eri Gutierrez (1st grade); Lynne Thigpen Elementary: Amber Cisneros (4th grade); Thompson Instructional Center: Destini Clopton (7th grade); Woodland Elementary: Colin Kuchar (5th grade);
Dirksen Junior High: Regina Zavala (7th grade); Gompers Junior High: Tania Herrera (6th grade); Hufford Junior High I.E. Program: Joana Contreras (8th grade); and Washington Junior High: Jasmin Rojas-Jimenez (7th grade).
In addition, congratulations to Sanchez fifth grade student Casandra Reyes and Washington eighth grade student Anderson Tucker for designing the winning T-shirt designs.