Garlicky Chicken Thighs with Asparagus, Pea, and White Bean Salad
3/20/2019, noon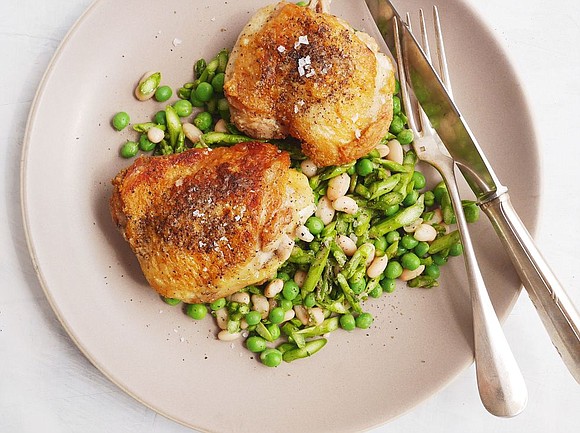 YIELDS: 4 / TOTAL TIME: 45 MINS
INGREDIENTS
3 tbsp. extra-virgin olive oil, divided
8 bone-in skin-on chicken thighs (2 to 2 1⁄2 lbs. total)
kosher salt
Freshly ground black pepper
5 cloves garlic
10 oz. frozen peas
1 lb. thin asparagus, very thinly sliced on the bias
1 15.5-oz. can white beans, such as cannellini or Great Northern, rinsed
Juice of 1 lemon
DIRECTIONS
Preheat oven to 400º with a rack set in the center. In a large skillet over medium-high heat, heat one tablespoon oil. Season chicken on both sides with salt and pepper, then cook, skin-side down, until the skin is golden brown and crispy, 6 to 8 minutes. Flip chicken thighs skin side up and add garlic to skillet.

Transfer skillet to oven and cook, basting once or twice with the garlicky pan drippings, until an instant-read thermometer inserted in the thickest part of the thigh registers 165º, 18 to 20 minutes. Let chicken rest 5 minutes before serving.

Meanwhile, microwave peas until just defrosted, 2 to 3 minutes. Mix in a large bowl with asparagus, beans, lemon juice and remaining 2 tablespoons olive oil and season with salt and pepper.

Serve chicken with asparagus salad, sprinkled with more salt and pepper.