School officials and wider community joins forces for Fairmont children
By Barrington M. Salmon | 3/27/2019, 10:06 p.m.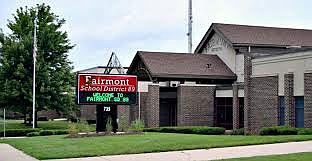 For the past two years, Fairmont School has been experiencing a rebirth.
District Superintendent Dr. Diane Cepala has received kudos for coming into a challenging situation with verve, a burst of new energy, and a clear vision of what the students can accomplish and the passion to transform those ideas into reality.
The challenges, parents, teachers and volunteers say, has been formidable.
Fairmont is a low-income community of 2,561 residents with a median household income of $40,907, and a median family income of $47,257. According to the most recent census information, the per capita for the Census Dedicated Place was $17,260. About 7.5 percent of families and 14.0 percent of the population were below the poverty line, including 22.3 percent of those under age 18 and 7.6 percent of those age 65 or over.
Fairmont, a tough-as-nails, working class community, was a once-economically vibrant area that has fallen on hard times, residents and observers say. Fairmont sits in a kind of no-man's land between Joliet and Lockport Township, Illinois. It is a low-income community with a swathe of elderly residents and others, like DeLinda Herod.
Herod, who has lived in Fairmont for 45 years and heads the Fairmont Community Partnership, Inc, said as good jobs left, the city fell on hard times.
"Our parents had good paying jobs, our fathers were able to take care of us, but a lot of residents have died off, left their property to their children," she said. "Less opportunities and fewer well-paying jobs are some of the reasons for the way the quality of life changed."
But Herod and other residents spoke of the pride they have for where they live.
The Fairmont School District is in unincorporated Will County and Fairmont School is the only school in the district. The school caters to students from Kindergarten to 8th grade.
Michael L. Parker and Dionne Wright, the mother of a 5th-grader, said the school – like the community – has been through hard times but has come a long way. The school has a summative designation of an underperforming school and the student population currently stands at 370, an increase of 70 students over the last school year. According to state data snapshot, Fairmont has an 80 percent retention rate and a chronic absenteeism of 15 percent.
Parker was effusive in his praise of Dr. Cepela, and he and Wright credit her with engineering the changes at the school.
"This woman works so hard," he said. "I applaud Dr. Cepela in going over and above in the effort of giving these students as much as the District can do to assure academic, emotional, and social success." Wright agreed.
"I appreciate Dr. Cepela and Miss Daniels, the principal, for their transparency, their openness and for encouraging me to come in and volunteer. They work very hard for the children. We sometimes get some people who don't care and just come to pick up a paycheck. I've seen teachers with that attitude. They don't care about low-income communities. Growth comes from caring."