Wine of the Week – Dry Creek Vineyards 2013 Meritage - $30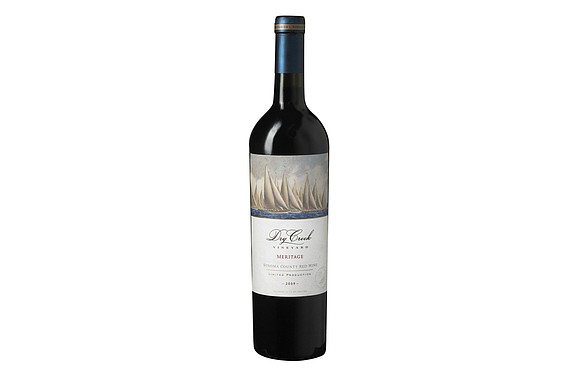 Winemaker David Stare of Sonoma's Dry Creek Valley was the first California winemaker to use the term "Meritage" on a label. The name connotes a unique style of Bordeaux been that combines the merit of the grapes used with the heritage of the vine, thus the term "Meritage."
Dry Creek Meritage 2013 ($30) is everything desired in a red Bordeaux style blend from California and more. It's a wine that lingers long on the palate and allows more complex flavors to emerge the longer it is allowed to breath in the glass and to age in the bottle. A blend of 40% Merlot, 33% Cabernet Sauvignon, 15% Cabernet Franc, 10% Malbec, and2% Petit Verdot, the wine announces itself with a nose of crushed red violets, followed by the pronounced flavor of bright red cherries. Not long after, flavors of really ripe blackberries and nutmeg and allspice begin to emerge. Allowing the wine to sit in the glass or decanter for a period of time even brings out more of the wines cavalcade of flavors; hints of cinnamon stick, dried blackberries and a hint of safe or oregano and a whisper of black pepper and sandalwood. This is a beautifully balanced Bordeaux style wine, which is winemaker David Stare's specialty and this year's release is a crowning achievement. The wine is great for an elegant wintertime meal of fine steak or roasted game meats, such as duck, turkey or pheasant. A really excellent case can be made for a simple pasta dish made with fresh field mushrooms or truffles is a sure bet. The wine is so good, its just as easy to forego all the hassle of cooking to just enjoy it on its own with a favorite recording of Amadeus or Miles and a roaring fire. Save a glass or so in the bottle to savor the next day, it will taste even better then.