Joliet Central High partners with J-Power USA for dual enrollment
5/1/2019, 7:58 p.m.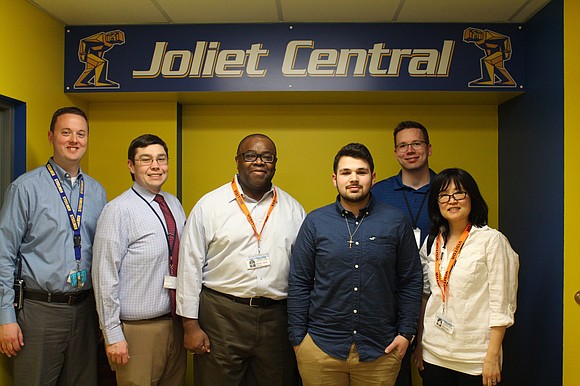 To meet the demand for highly skilled technicians in Will County, J-Power USA sponsored the tuition costs of one Joliet Township High School senior to participate in the Advanced Integrated Maintenance Program (AIM) at Joliet Junior College (JJC). JTHS seniors enrolled in the program take a series of 4 dual credit, college level courses held on the JJC Campus from 7:30 to 9:30 a.m. during the weekday.
To gain a student's perspective of the AIM program's impact, J-Power USA representatives Joyce Bae and William "Bill" Taylor visited Joliet Central High School to meet Yonathan Garcia, an AIM program participant. Also on-hand for the visit were Brett Marcum, JTHS Director of Strategic Partnerships; Chris McGuffey, JTHS CTE Curriculum Director; and Jeff Riley, Joliet Central High School STEM Academy.
Upon completion of the AIM program, students receive two high school credits and 13 college credits in the subject areas of HVAC; Industrial Maintenance; Basic Wiring and Circuit Design; and Industrial Fluid Power. Upon successful completion of the AIM program, students can enter the workforce or continue the Industrial Technology and Maintenance career pathway by earning an Associate Degree at JJC or a Bachelor of Science through a partnership with Southern Illinois University.
To learn more about JTHS/JJC Dual Enrollment programs or to sponsor a student's tuition in these programs visit our website: https://www.jths.org