County collects record amount of textiles
5/7/2019, 9:36 p.m.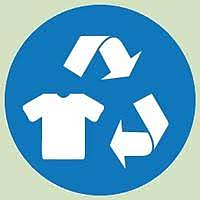 thetimesweekly.com
Will County took in a record shattering 12,298 pounds of textiles during its annual week-long collection event which ended May 3.
Will County Executive Larry Walsh said, "The generosity of the residents of Will County and their dedication to keeping materials out of the landfill should be applauded."
Walsh continued, saying that the number of pounds has climbed through the years. "In 2014, we took in 5,518 pounds - a record setting amount at the time. In 2017, we brook that record with 5,955 pounds. Last year we hit 7,800 pounds, but this year we left those records in the dust."
This year's textile recycling partner, Savers of Orland Park, had to come in every day to clear out the lobby of the County Office Building, 302 N. Chicago St.
Marta Keane, Recycling Specialist with the Will County Land Use Department's Resource Recovery and Energy Division, said, "On Friday, as a way to celebrate International Compost Week, we gave away food scrap compost provided by Organix of Mokena. Participants took home nearly 500 bags before the day ended at 4:30 p.m.
"We put up signs and posted on our Facebook page that residents could bring their own shovels and containers and help themselves to the remaining compost," Keane said. "Within 24 hours the remains of the two piles at the County Office Building were gone."
Dean Olson, Director of the Resource Recovery and Energy Division and member of Illinois Food Scrap Coalition board, was pleased with the results of this first-ever giveaway and hopes that gardens grow more fruitful with the provided compost.
The County's Environmental Educator, Joan O'Keefe, has been working with two Plainfield High Schools this year, piloting a food scrap collection program in which Organix accepts the material and turns it into nutrient rich compost.
The Land Use Department is under the County Executive's office and is led by Director David Dubois.