VEGGIE Fest Chicago is coming back
5/7/2019, 9:15 p.m.
They took a year off, but now they are back at a new location. More space, more food, more music, more kids' fun, more everything. Plus a lot of onsite parking. This summer, Veggie Fest will be at Danada South Park at Navistar Circle, Lisle, IL on August 10 & 11, 2019.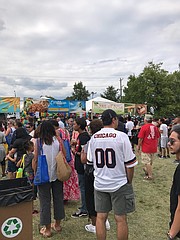 Now in its 13th year, Veggie Fest Chicago is one of the largest and most celebrated vegetarian food and wellness festivals in North America. In 2017, over 45,000 people attended the two-day festival, enjoying its huge international food court; health professionals speaking on diet, lifestyle, and environmental issues; engaging food demos by restaurant owners, chefs, and authors; an incredible children's tent with face painting, clowns, and crafts; live music from some of Chicago's best bands; and over 100 vendor booths to explore. Veggie Fest is a fabulous outdoor festival with something for everyone. Sponsored by the Science of Spirituality International Meditation Center, this nonprofit event is supported by 1,000 volunteers who travel here from over twenty countries.
Admission and parking are both free. For more information about Veggie Fest Chicago, visit us online: www.VeggieFestChicago.com/festival Science Of Spirituality 4105 Naperville Road, Lisle, IL