BUTTERMILK FRIED CHICKEN AND CORNMEAL PANCAKES
5/8/2019, noon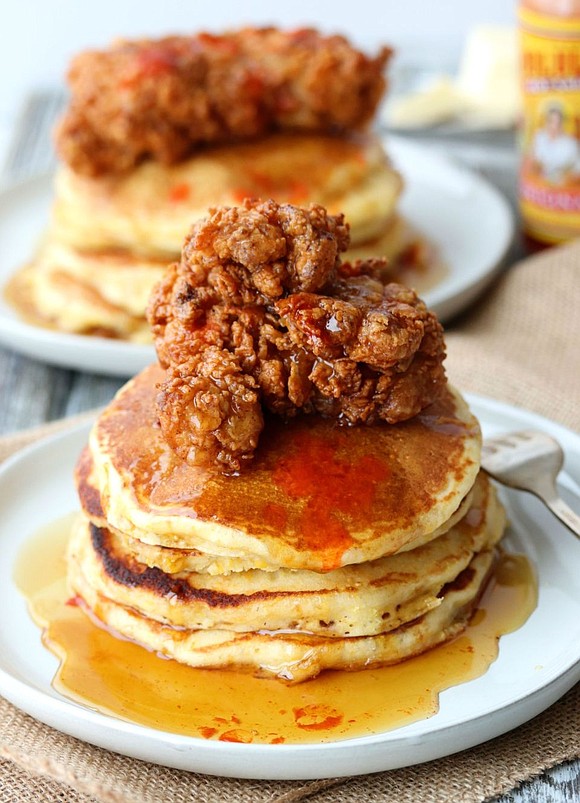 Servings: 4 / Total Time: 1 hr
Ingredients
• 4 whole Boneless Skinless Chicken Thighs
• 1 cup Buttermilk
• 2 tablespoons Hot Sauce
• 2 cups Flour
• 1/2 teaspoon Kosher Salt and Ground Black Pepper
• 1 teaspoon Smoked Paprika
• 2 cups Canola Oil
• For Cornmeal Pancakes
• 1 cup Cornmeal
• 1 cup Boiling Water
• 1 1/3 cup Buttermilk
• 2 whole Eggs
• 2 teaspoons Honey
• 1/4 cup Butter, melted
• 1 1/4 cup All Purpose Flour
• 1 tablespoon Baking Powder
• 1/4 teaspoon Baking Soda
• 1 teaspoon Kosher Salt
• Nonstick Cooking Spray, for cooking
Directions
• STEP 1In a resealable plastic bag add chicken thighs, buttermilk, and hot sauce. Seal and place in the fridge for marinate for 20 minutes. You could also do an overnight marinade in the fridge if you have the time.
• STEP 2In another resealable plastic bag add the flour, kosher salt, ground black pepper, and smoked paprika.
• STEP 3Add canola oil to a heavy bottomed pot or cast iron. Heat to 350 degrees F.
• STEP 4Have everything ready for frying before you start. Line a sheet pan with a rack and preheat your oven to warm setting or 200 degrees F.
• STEP 5Work in batches, use tongs to remove chicken from marinade and place in plastic bag with flour mixture. Seal and shake to coat chicken. Use tongs to remove chicken and shake excess flour off. Fry in preheated oil, 3-4 minutes per side until golden brown and crispy. Remove to the rack lined sheet pan. Repeat until all chicken is fried. Place sheet pan in warm oven while you make the pancakes.
• STEP 6In a large mixing bowl pour boiling water over cornmeal. Whisk until thickened and slowly drizzle in buttermilk. Add eggs, honey, and melted butter, whisk to combine. Whisk in flour, baking powder, baking soda, and kosher salt. Preheat a griddle or large nonstick pan to medium high heat. Use a 1/2 cup measuring cup to make each pancake. Cook 2 minutes per side.
• STEP 7Remove to a plate and serve immediately with fried chicken. Serve with plenty of maple syrup, honey and hot sauce. Enjoy!