State gains $15 million to fight opioid crisis
Marney Simon | 5/8/2019, 10:42 p.m.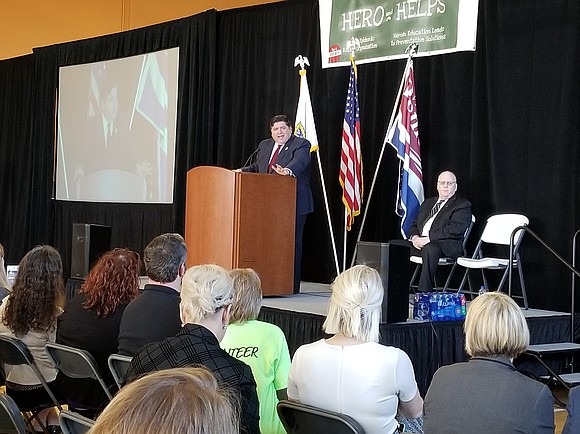 Opioid overdoses cut short more than 2,000 lives in the state of Illinois in 2018. But Will County officials and Governor J.B. Pritzker are pledging to fight the epidemic with resources, education, and funding. On May 3, the village of Romeoville hosted a summit on the opioid epidemic in Illinois, alongside the Heroin Epidemic Relief Organization (HERO), Heroin Education Leads to Preventative Solutions (Will County HELPS) and the Southwest Coalition for Substance Abuse Issues.
Pritzker spoke at the summit, promising the full weight of his office behind the fight against opioid use and abuse both countywide and statewide. "We need more mental health providers and psychiatric services and more primary care physicians and nursing professionals and more recovery programs," Pritzker said. "That's true not just here in Will County, but across the state of Illinois. But I want you all to know that I recognize the critical work that you're doing despite those challenges to provide the best care possible."
Pritzker said the state recently secured $15 million from the federal government to advance efforts to battle the opioid epidemic, making the state's total federal dollars received $82 million since 2016. "I assure you that my administration will continue to leverage federal dollars wherever possible to fight this epidemic.
These resources go directly into our multi-faceted approach to tackling this disease," he said. The governor also promised help from his office as local agencies work to create local programs for treatment, recovery, and prevention programs for opioid use disorder, including outreach, public awareness campaigns, treatment centers, Narcan training, and prevention programs. Pritzker said he's committed to enhancing what's already working and adopting best practices for making improving, plus plans to enhance and expand street-based efforts.
"We're going to rebuild the social service structure in Illinois. Addiction does not take place in a vacuum," he noted. Dr. Kathleen Burke, who heads up the Will County Substance Use Initiatives program, told those at the summit that the county was focusing on medical assistance treatment (MAT), and discussed the importance of Narcan – an opioid neutralizing agent that saved more than 13,600 lives in Illinois in 2018.
"Narcan saves lives," Burke said. "We can't help somebody get the help they need if they die from an overdose. So, we are expanding that program into opportunities to work with our homeless shelters and all of our substance abuse support groups. Anywhere, any place, any time. That's my motto." Burke said that county will advocate for MAT as a long-term effort to battle the opioid epidemic.
"Recovery doesn't stop the moment you get out of treatment, recovery is a lifelong process," she said. "Opioid use disorder is a chronic illness, it doesn't go away. So it needs to be managed your entire life."