School District 86 students receive $1,000 college scholarships
5/15/2019, 3:30 p.m.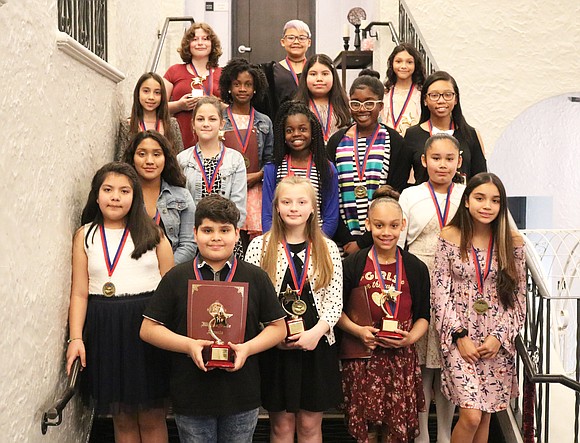 The Joliet Region Chamber of Commerce awarded 44 students, including 19 Joliet Public Schools District 86 students, from Joliet area schools with $1,000 college scholarships at the sixth annual Hawk Joliet Education Scholarship Banquet. Students in grades 4-8 who maintained a grade point average of 3.75 or above on a 4.0 scale and demonstrated service to their school or community were nominated by their school principal for the award. The scholarships were created to encourage and motivate students at an early age to attend college.


This year's District 86 winners were: T.E. Culbertson Elementary: Sean Kirman (5th grade); M.J. Cunningham Elementary: Amber Davis (5th grade); Dirksen Junior High: Saniah Files (8th grade); Eisenhower Academy: Teresa Swearinger (4th grade); Farragut Elementary: ShyAwnna Green (5th grade); Forest Park Individual Education (I.E.) School: Sergio Trevino (5th grade); Gompers Junior High: Nydia Martinez (8th grade); Hufford Junior High: Olivia Tristan (8th grade); Thomas Jefferson Elementary: Camryn Matheny (5th grade); Edna Keith Elementary: Victoria George (5th grade); A.O. Marshall Elementary: Fatima Mascote (4th grade); Pershing Elementary: Isabella Hebrard-Flores (4th grade); Sator Sanchez Elementary: Darlyn Ulloa-Martin (5th grade); Carl Sandburg Elementary: Melissa Verdin (5th grade); Isaac Singleton Elementary: Natalie Barrera (4th grade); Taft Elementary: Sophia Jordan (4th grade); Lynne Thigpen Elementary: Tequanae Johnson (5th grade); Washington Junior High: Elizabeth George (8th grade); and Woodland Elementary: Gabriela Mendoza (5th grade).