Village of Bolingbrook seats new village trustees
5/15/2019, 3:43 p.m.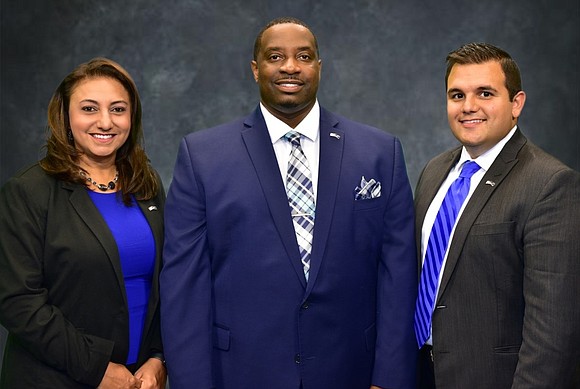 The Village of Bolingbrook is conducting the Swearing In ceremony for the Village Trustees who were successful in the April 2019 Consolidated Election. The ceremony took place at the regular Board meeting of May 14, 2019 at 8pm. Trustees-elect Mary Alexander-Basta and Michael Carpanzano are new to public office. Sheldon Watts was appointed to fill the vacancy of the office held by Leroy Brown, who had passed away.

Two of the Trustees currently serving in office and whose terms expired in April of 2019, Ricardo Morales and Deresa Hoogland, did not seek re-election.

The Trustees serve a four-year term, representing the community of over 76,000 residents.

All three Trustees expressed their gratitude to the residents for the successful election. They expressed appreciation to their families for their support during the campaign and for the coming years as they serve the community. They also acknowledged the hundreds of volunteers who worked on their behalf to enable them to meet the residents over the last several months, learning their concerns, and communicating their vision for the future of Bolingbrook.