Wayne's Words: Memorial Day: Remembering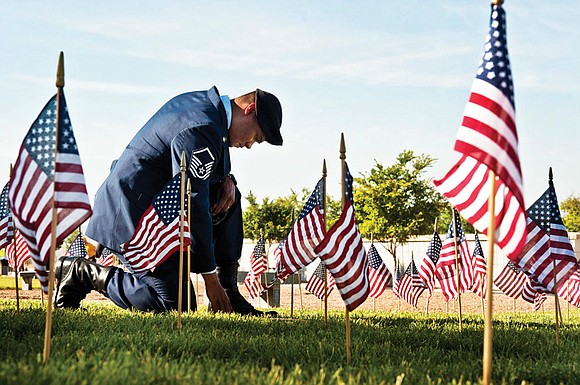 Memorial Day is the federal holiday in the United States for remembering those people who died while serving in the country's armed forces. It was formerly known as Decoration Day and was traditionally observed on May 30. This year Memorial Day falls on Monday the 27th and is this next weekend. It was officially declared a national holiday in 1967. It is the traditional holiday that starts the summer. It is always a three-day weekend since the Uniform Monday Holiday Act went into effect in 1968.
The holiday moved from its traditional observance on May 30 to the last Monday in May. Families and friends gather for picnics and numerous outdoor events in observance of the holiday weekend. There are also the incessant holiday sales hyped by businesses big and small. But that's not really what Memorial Day weekend is about.
The official and traditional purpose of Memorial Day is a commemoration for soldiers who lost their lives while serving their country. The grateful phrase "Thanks for your service" should be reserved that weekend for those service members who paid the ultimate price-- they died fighting in battle for the United States of America.
Conflicts (wars) are part of the DNA of the United States. Since 1775 until the present day, total U.S. casualties from all wars is approximately 2.9 million soldiers. (Casualty is defined as killed and wounded). Many individuals died from wounds, both physical and mental, years later. Another 40,000+ are still missing or unaccounted for. Four wars (World War I, World War II, Korea and Vietnam) account for 61 percent of total U.S. casualties in 244 years of American history.
May is also Military Appreciation Month. The month includes not only Memorial Day, but in addition Military Spouse Appreciation Day and Armed Forces Day. President Harry Truman established Armed Forces Day in 1950. Congress designated May as National Military Appreciation Month in 1999 to ensure the nation was given the chance to publicly show their appreciation for troops past and present.
Veterans of all wars recognize the sacrifices of those who served and became casualties. Many Veterans organizations will conduct memorial services at the local American Legion and VFW posts. If you are unable to attend any commemoration ceremonies there are two other rituals you can do Memorial Day weekend. One is to fly the U.S. Flag at half-staff from dawn until noon on Memorial Day. The other, on that day, is to pause for a National Moment of Remembrance at 3 p.m. local time.
One last thing… this last week saw the arrival of local property tax bills in the mail. As usual, property taxes are payable in two installments. The first installment is due on Tuesday, June 4. The second installment is due on September 4, the Wednesday after Labor Day. Penalties are assessed if payments are not made by the due date. New on this year's Will County Treasurer's website is the ability to set up automatic payments or recurring payments for future property tax installment payments.
Included in the property tax mailing was a bit of somewhat confusing information regarding mortgage companies. The statement "Call your Mortgage Company for payment information as our office doesn't have payment details regarding your mortgage payment" suggests payment of the escrowed tax installment would no longer be made.
A quick check with the Will County Treasurer's office determined that wasn't the case. An office spokesperson stated that nothing had changed and mortgage companies would continue to receive notices for payment of property tax installments. The person also acknowledged the notice was poorly worded and they had received many calls regarding the confusing statement.
I suspect most who received their tax bill never saw the notice, but if you did, you can ignore it because nothing has changed if you escrow tax payments with a third party. The notice was supposed to be for the purpose of transparency. Sometimes a bit of clarity is needed to understand the transparency.
Stay tuned…

Contact Wayne at wayneswords@thetimesweekly.com