Wine of the Week: A by Acacia Chardonnay 2016 -$20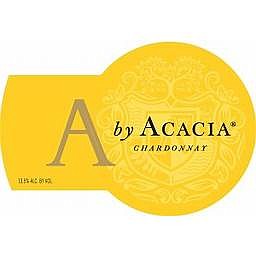 Acacia Napa Valley Chardonnay is one of the benchmark labels of the regithe on.
With its layers of bright tropical fruit flavors; both sweet and sour lemons, white flowers, honeycomb and ripe Asian pears, the wine is among the region's most coveted Chardonnays at any price. Now comes a version of this superlative wine that provides a "casual Friday" approximation of the same delightful wine at about half the price.
Say hello to A by Acacia Chardonnay, a 'second label,' if you will, featuring an un-oaked version of their more well-known flagship. The wine has the same pure varietal character of the Chardonnay grape as the top-tiered version, sans the oak aging. The same care is used in its vilification; from fermentation under constant low temperatures to preserve its rich fruit flavor to longer aging in stainless steel tanks to preserve the mouth-watering flavors of citrus, green and Golden Delicious apples and Fuji apples and pears. A hint of apple blossom adds just a touch of perfume and complexity.
The overall effect is a crisp, clean and fruit-forward wine that tastes better with each sip. A great accompaniment to summer salads and soft cheeses, the wine will carry you right through a lunch of al dente shrimp and garlic pasta or lemon drenched grilled chicken. Salads with garden fresh herbs and hand made vinaigrette are right at home with this refreshing wonder. Save a bit for a dessert of key lime pie or a delicious lemon sorbet with ladyfingers.
Have another bottle standing by in the fridge for a moment of kicking back and savoring the wine on these increasingly longer days.