STRAWBERRY AVOCADO PASTA SALAD
5/24/2019, noon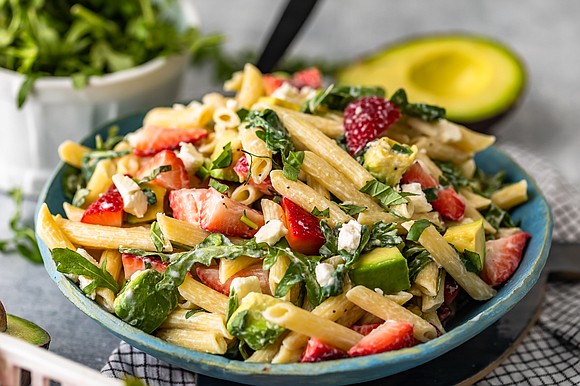 INGREDIENTS
• 16 ounces uncooked penne rigate pasta
• 1 tablespoon salt
• 2 cups baby arugula
• salt and pepper to taste
• 1 lb. strawberries hulled and sliced
• 2 avocados cubed
• 1 cup feta cheese crumbled
• 1/2 cup chopped fresh basil
• 1 tablespoon lemon juice
• 1/2 cup poppy seed dressing
• 1/2 cup greek yogurt
DIRECTIONS
Cook pasta according to package instructions, adding the 1 tablespoon salt to the water as it cooks.

When pasta is al dente, drain and return to the pot or place in a large bowl.

While still hot, stir in the arugula, allowing it to wilt. Stir in the salt and pepper to taste.

Add in the sliced strawberries, cubed avocado, and feta cheese.

In a separate small bowl, whisk together the lemon juice, poppy seed dressing, and greek yogurt until smooth.

Pour dressing over the still warm pasta and stir to fully coat/combine.

Serve warm or cold. Brighten with a bit more lemon juice if you need to perk it up before serving.