Rialto celebrates 93 years of entertainment and experiences
5/27/2019, 8:27 p.m.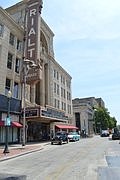 Rialto Square Theatre, the "Jewel of Joliet," turned 93 years old on Friday, May 24th! We invite any member of the community to make a donation in honor of our 93rd birthday. Donate at www.rialtosquare.com/support.
The Rialto Square Theatre first opened its doors on May 24, 1926, in a time where movie palaces were designed to create a fantasy environment to attract moviegoers. Although the Theatre has had to evolve to attract new audiences, the fantasy environment has been a gift for all to enjoy.
Now, 93 years later, our shared experiences at the Theatre have kept it moving forward. We can all feel proud that our community had the will and foresight to renovate the Rialto Square Theatre in the 1980s so that it could be used as a performing arts center presenting concerts, plays, dance competitions and more. We should be equally proud that our community has continued to support the Theatre's mission and programming ever since.
While we celebrate the Rialto Square Theatre's rich history and heritage, we are intently focused on our future. With the community's help, we can continue to support our historic landmark. As our management team keeps the Rialto Square Theatre active with concerts, special events, and films, it is only with the help of private contributions that the Theatre is able to fund restoration projects and guarantee excellence in programming.
As we work together, we can protect one of America's best-preserved examples of grand movie palace architecture so that our children and our children's children can enjoy the Rialto Square for years to come.