Art Show lets disabled speak for themselves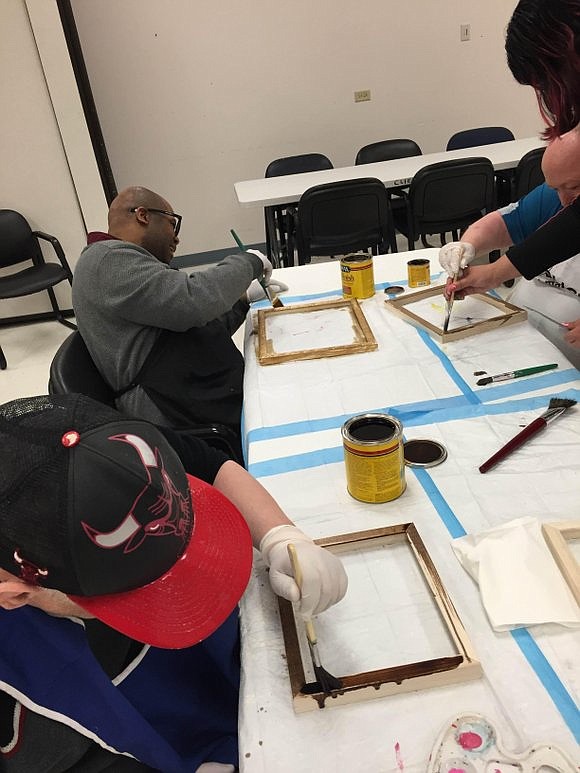 "This entire Art Show just grew organically from the need for out disabled clients to give themselves a voice," said Cornerstone Services P.R. Matthew Lanoue in speaking of the upcoming Annual Art Show, Thursday, June 6 at the Joliet Area Historical Museum, 204 North Ottawa in downtown Joliet. "The program came about through some of the work of our staff, who have an interest in art, and some of the outside individuals who come in to help out with our adult programs.
The Cornerstone staff then set about creating an art studio out of some unused warehouse space, to create a place for those with disabilities to let their creative juices flow.
"This arts project developed over many years. We found that there were a number of individuals who weren't comfortable with some of our other programs. We found that with people who can't talk or speak their mind that, if you give them a paintbrush or a pencil, they flourish,"Lanoue continued. "They become very productive and prolific. Some of the work they create is truly amazing and some of them have developed a following of people who collect their artwork."
The artists benefit directly from the fruits of their labor. "The artists realize a full 70% of the revenue they generate from their art. They actually get a check at the end of the show. The rest goes to support the program, Lanoue explained. "We can see a real difference in how they respond. Instead of emotional outbursts when they feel they can't express themselves, we see a more positive attitude. The art has a claiming effect and they become less agitated. In fact, they look forward to coming into the studio and getting at their artwork the first thing in the morning. This is by far one of the most popular and effective of all our adult activities."
One of the most encouraging things for the artists is the outpouring of support and appreciation for their art. "The Mayor has a piece hanging in his office and our state senator has one at his office in Springfield. When we open the show, we have people coming in asking to see their favorite artists and to buy their work. It's really gratifying for the artists." The art showing is from 4:30pm to 7:30pm and the community is invited.