Chicken Burgers
5/29/2019, noon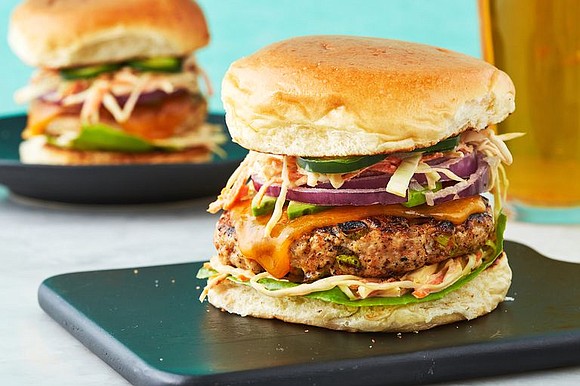 YIELDS: 4 / TOTAL TIME: 45 MINS
INGREDIENTS
1 1/2 lb. ground chicken
3/4 tsp. smoked paprika
1 clove garlic, minced
3 green onions, minced
Kosher salt & ground black pepper
2 tbsp. extra-virgin olive oil
4 slices cheddar
4 leaves butterhead lettuce
2 c. coleslaw
1 avocado, thinly sliced
1 jalapeño, thinly sliced
1/4 small red onion, thinly sliced
Brioche burger buns, split and lightly toasted
DIRECTIONS
In a large bowl, combine chicken, paprika, garlic, and green onions, and season with salt and pepper. Divide mixture into 4 patties.

In a large skillet over medium heat, heat oil. Add burger patties and cook, flipping once, until golden and a thermometer inserted into the center registers 165°, 8 to 10 minutes. Add cheddar on top, cover, and cook until just melted, 2 minutes. Remove from heat and transfer patties to a plate.

Stack lettuce, coleslaw, chicken burger, avocado, red onion, jalapeño, and more coleslaw on top of bottom buns. Close sandwich with top bun.