Sweet & Spicy BBQ Bacon Hawaiian Turkey Burgers
5/31/2019, noon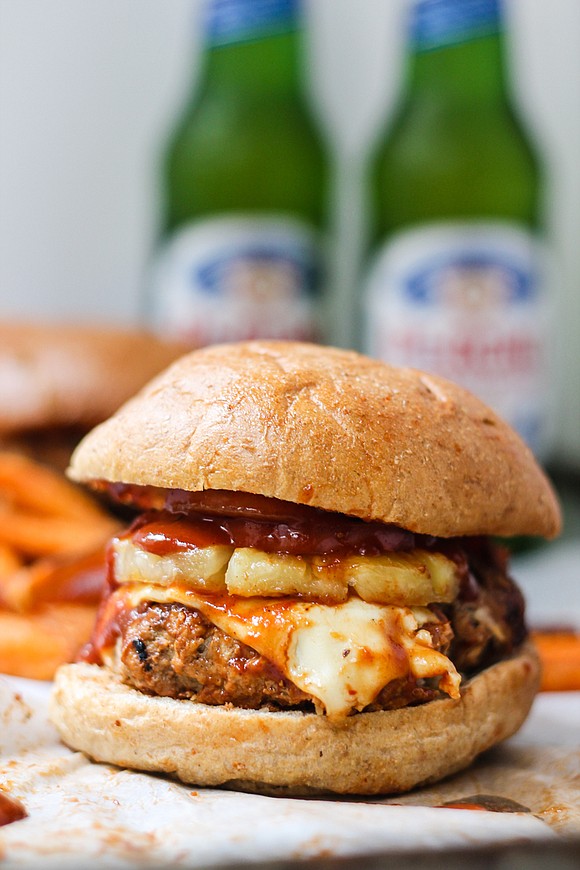 SERVINGS: 4 / TOTAL TIME: 30 mins
INGREDIENTS
• 5 slices turkey bacon
• 1 pound lean ground turkey breast (at least 93% lean) or can use 99%
• 3 tablespoons BBQ sauce
• ½ medium white onion, diced
• 1 garlic clove, minced
• ¼ teaspoon cayenne pepper, plus more if you like spicier
• pinch of crushed red pepper flakes
• Freshly ground salt and pepper
• 4 fresh pineapple slices, ½ inch thick
• 4 slices of pepper jack cheese
• FOR SERVING:
• 4 whole grain or gluten free hamburger buns
• Toppings: Sliced onions, extra bbq sauce
DIRECTIONS
Cook turkey bacon according to directions on the package. Once crispy and fully cooked, transfer to a paper towel and pat dry. Allow a few minutes to cool, then coarsely chop the bacon and set aside.

Make the turkey burgers by adding the ground turkey, chopped turkey bacon, bbq sauce, onion, garlic, cayenne pepper, red pepper flakes and salt and pepper to a medium bowl. Mix with your hands until evenly combined. Divide into 4 equal portions and shape into ¾ inch patties.

Grill over medium-hot heat for 5-8 minutes per side or until burgers are cooked through and a meat thermometer reads 165 degrees F. While the burgers are cooking, grill the pineapple slices until browned, turning once; During the last few minutes of cooking the burgers, add a slice of cheese on top of each burger; cover the grill for about 1 minute while the cheese melts.

Place the burgers on buns, top with grilled pineapple slices, drizzle with extra bbq sauce and top with onions. Serve immediately. Great with sweet potato fries or fresh fruit!

Notes:

You can also cook these burgers indoors by broiling them in the oven about 3 inches from the top; broil 5-7 minutes on each side.