Will County outlines plan for infrastructure improvements
11/11/2019, 7:36 p.m.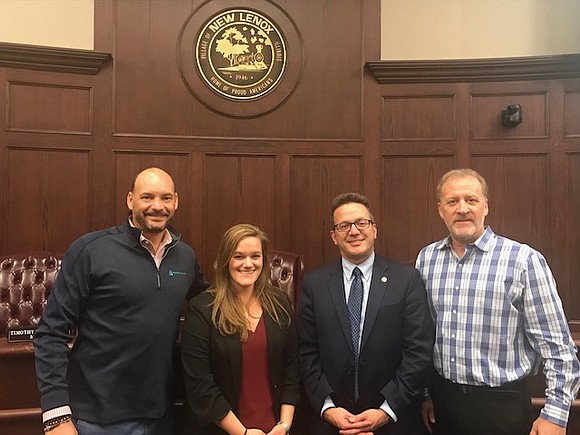 During a meeting of the RUSH (Residents United for Safer Highways) held Thursday night at the New Lenox Village Hall, transportation experts and the Will County Executive's staff explained plans and ideas to manage heavy truck traffic and improve safety on roadways in the region.
The meeting entitled "2030 and Beyond, the Road to Reality" was led by Scott Slocum from WJOL, who has been a leading voice in this initiative to improve highways across Will County.
Slocum said RUSH began two years ago after a FedEx driver was killed in an accident along I-80.
"We are proud Will County will be receiving $1.2 billion from the state to help improve safety," he said. "We need a regional plan to improve safety on our highways but also the rural intersections."
The panelist included Mary Craighead Tyler, transportation analyst with the Illinois Economic Policy Institute; Marc Poulos, Executive Director, Indiana, Illinois & Iowa Foundation for Fair Contracting; and Nick Palmer, Chief of Staff for Will County Executive Larry Walsh.
Palmer explained the county's role in planning for infrastructure investments and discussed potential revenue streams for these projects.
"We have an actionable plan that is ready to be implemented in the Friendly Freight Mobility Plan which will establish formal truck routes throughout the county and target future development in areas with existing transportation infrastructure."
Palmer also explained two other studies under way, the Joliet Intermodal Master Transportation Plan and the CMAP (Chicago Metropolitan Agency on Planning) Will County Truck Routing and Land Use Study.
"The most important issue is we must work together as a region to balance future development with quality of life and safety for our residents."
Tyler outlined reasons why transportation improvements are necessary citing the growth, past present and future that continue to stress current infrastructure.
"From 2000-2013, Will County experienced a 35 percent growth in population," Tyler said. "From 2015 to 2015, Will County is projected to grow by 14 percent and by 2050, the growth in Will County is projected at 56 percent. This growth is substantially larger than any region in the state."
Poulos shared some significant statistics including the fact there are 350,000 drivers in Will County and almost as many registered vehicles. This does not even include the number of trucks that are passing through the county.
"It is important that we take a smart approach to manage our growth," Poulos said. "We need to work together to become part of the solution."
Palmer said, "This will be an ongoing conversation but I am confident if we continue to listen to each other and work together we can keep Will County a great place to live, raise a family, and do business."