JTHS Student Ambassadors and Bridge Builder
11/13/2019, 3:53 p.m.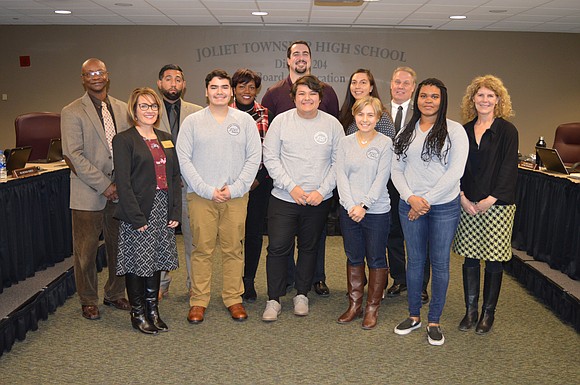 Joliet Township High School Board of Education members received words of appreciation from Student Ambassadors Matthew Hernandez , Kasey Lyn, Yanni Ovalle, and Lydia Richardson and Bridge Builder Lorraine Guerrero Neumayer at the Nov. 12 board meeting.
To recognize the nearly 6,000 elected school board members throughout the state, November 15 of each year is designated as "School Board Members Day" in Illinois. This is an opportunity to build community awareness and understanding about the essential role locally elected board of education members assume in a representative democracy.
The Board of Education has specific duties and responsibilities to fulfill. Among them are:
Selection of the Superintendent of Schools

Establishment of general policies for the school system

Employment of school personnel upon recommendation of the superintendent

Adoption of the annual budget and approval of all expenditures

Informing the public of the needs and progress of the educational system

Exercising the legislative power conferred or implied by legislature in administering school functions.
The Joliet Township High School District 204 Board of Education consists of seven
citizens of the school district, each of whom is elected for a four-year term. Any
adult resident may run for election to the board providing he or she meets certain
legal qualifications. School board members serve without pay.
Joliet Township High School Board of Education members are Tracy Spesia, President; Frank Edmon Jr., Vice President; Meg Cappel, Secretary; Angel Contreras; Jim Allison; Matthew Kennedy; and Michelle Stiff.
JTHS thanks the members of our Board of Education for their service and dedication to our district.