OP-ED: What's at stake in Byron Allen's Supreme Court Showdown with Comcast
Maurita Coley | 11/13/2019, 8:58 p.m.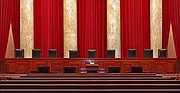 The U.S. Supreme Court heard on Wednesday arguments in a suit between Comcast and Byron Allen, a prominent African American programming executive. What began as a fairly routine television carriage dispute has turned into risky gambit that may give the court's conservative majority an opportunity to roll back fundamental civil rights protections.
The lawsuit arose out of Comcast's decision several years ago not to carry several Allen-owned television channels, such as Pets.TV and Recipe.TV. Comcast has argued its rejection of Allen's channels was purely a business decision, reflecting what it viewed as the channels' limited audience appeal. Allen then promptly filed a $20 billion lawsuit against Comcast, alleging that the company's refusal to contract with Allen's company was racially motivated, in violation of Section 1981 of the Civil Rights Act of 1866.
District Court Judge Terry Hatter – a well-respected African American judge with an apparently strong record on civil rights – dismissed the case three times, finding that Allen had not established a plausible argument that Comcast would have contracted with his company "but for" Allen's race.
Allen appealed to the 9th Circuit, which remanded Judge Hatter's dismissal with a new guideline to the lower court that a plaintiff can state a viable claim under Section 1981 if discriminatory intent plays any role in a defendant's decision not to contract, regardless of whether race discrimination was a "but for" cause of that decision. Comcast petitioned the Supreme Court to review the 9th Circuit's decision, and the Supreme Court agreed; oral argument is scheduled for Nov. 13, 2019.
Carriage disputes between cable operators like Comcast, and programming content providers like Byron Allen, are exceedingly common. In my more than 30 years in the industry, I've represented both sides – networks seeking distribution and distributors seeking content – and in the early days of cable, I even represented minority-owned distributors such as Barden Cablevision of Detroit, and minority-owned programmers such as Black Entertainment Television.
In my experience, this Comcast-Allen case doesn't fit the usual framework for a race discrimination case. As best I can surmise, Allen's channels are not ethnically or culturally diverse; he claimed the alleged race discrimination was that, "but for" the fact that his channels are black-owned, his channels would have been carried because Comcast was already carrying similar white-owned food and pet-themed channels. His suit rejected Comcast's defense that its decision not to carry his channels was not racially motivated, saying that it had other non-racial reasons, such as better ratings, higher-quality programming, or other business considerations for not carrying the channels owned by Allen.
In any event, the parties were not able to resolve their content carriage dispute, and now this case, which started as a private contract dispute, now puts at risk the civil rights enjoyed by all Americans, because a conservative Supreme Court majority hostile to civil rights has a chance to fundamentally re-examine Section 1981. The court will get to decide – not just for this case, but in a precedent that will impact all future discrimination cases – whether a plaintiff must prove that intentional race discrimination was the decisive factor in a decision (the "but for" standard of proof), or whether race just needs to be one factor in the decision (the 9th Circuit's "mixed motive" standard, which civil rights leaders strongly support).