Northpoint vote riles residents, bolsters unions
11/20/2019, 9:02 p.m.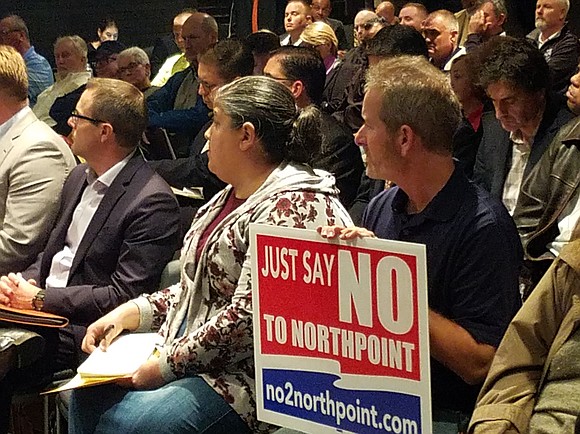 A tie-breaking vote from Joliet Mayor Bob O' Dekirk gave the go-ahead to the highly controversial Northpoint development project, angering residents who protested its approval. The mayor delivered the tie-breaking vote.
More than 40 residents loudly protested the project in a tumultuous meeting, which caused at least one Joliet police officer assigned as security to the City Council meeting to rise to his feet to restore order.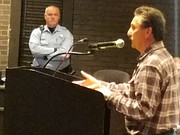 Residents speaking against the project cited runaway development as one of their primary complaints. "We know this isn't just going to be a 103-acre project," one resident protested. Speakers representing labor unions pointed to the boost to employment for the skilled trades as a boost for the local economy by employing thousands of workers. The mayor added that the project would spark further economic growth for the state's third largest city. "Economic growth and development is a good problem to have," one proponent offered.
Council members who voted in favor of the Northpoint development were Pat Mudron, Sherri Reardon, Jan Quillman and Larry Hug. Opponents were Don "Duck" Dickinson, Terry Morris, Bettye Gavin and Mike Turk. Mayor O'Dekirk cast the tie-breaking and deciding vote, marking one of the few times that he and councilman Mudron had a meeting of the minds. The vote prompted a loud reaction in the packed room, which was filled with residents, some of whom carried protest signs.
Citing traffic congestion, and pollution concerns, local residents warned that the project would have an overall negative environmental impact. "The people just don't want it," one resident proclaimed.
In April of 2018, Elwood Mayor Doug Jenko cancelled a village trustee meeting to consider annexation of land for the controversial 2200 acre Northpoint project in Elwood. After intense opposition and with over 800 residents in attendance, Northpoint asked Joliet for passage.
The plan passed Tuesday approves the development of 103 acres located in the midst of a quiet residential area in Jackson County, Elwood. Many residents commented they fear that the Northpoint project will spark further commercial and industrial development that will result in residents being displaced.