New Micro Pantries in Joliet community
10/2/2019, 10:38 p.m.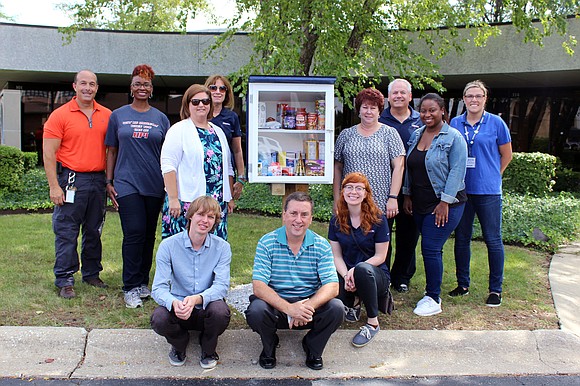 Joliet - Cornerstone Services has establishment three new micro-pantries in the Joliet community, giving residents an additional community resource. They were constructed and installed at Cornerstone locations by volunteers from The Horton Group, an Orland Park-based insurance agency.
Micro-pantries are small containers that make it easy for people in need to pick up food or other supplies anonymously. Open to everyone, the wooden box has a protective door and shelves containing non-perishable food, as well as other staples, such as diapers for babies. Those who wish to donate are invited to replace items in the box at any time.
"We are very grateful to the team at The Horton Group for donating their time and resources to make these micro-pantries available. It is a much-needed resource for our community," said Cornerstone President/CEO Ben Stortz.
The Will County area is now home to several micro-pantries, along with others in the southwest suburban region. The newest micro-pantries are at Cornerstone's 800 Black Road, 2174 Oneida, and 2401 W. Jefferson St. locations.
Cornerstone is a leading provider of services for adults and children with disabilities in Illinois. The not-for-profit social service agency provides services to over 1,100 individuals with mental illness and developmental disabilities in Will and Kankakee Counties. Celebrating 50 years of services in 2019, Cornerstone is a member agency of the United Way of Will County.