Plainfield oks banquet hall
Madhu Mayer – mm@thetimesweekly.com | 10/9/2019, 3:55 p.m.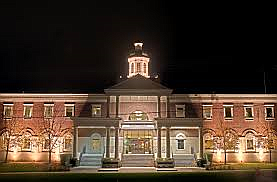 It's officials, the Village of Plainfield agrees to the opening of a special events facility in downtown.
On Monday by a 4-2 vote adopted an ordinance granting special use approval for the Sanctuary Plainfield at 24216 W. Lockport St.
Several months earlier, the village board only allowed a temporary special use permit for the banquet facility on Lockport Street with a stipulation that the operation will be reviewed at the end of the year as many of the trustees were worried about the parking situation in downtown.
For a given event, Yuchen Ding, associate planner for the village, expects the number of banquet attendees to be about 200, which, he said, will cause parking challenges in the busy downtown area as 100 cars are expected for each event. But the applicant has submitted a parking management plan with agreements for off-street parking at Larry's Diner providing spaces for up to 120 vehicles and LifeSpring Community Church having spots for 88 cars.
One 13-seat shuttle bus and one 15-seat shuttle bus will facilitate getting patrons to and from the remote parking locations.
Village trustee Margie Bonuchi was not convinced that the parking problem would not escalate with the opening of the facility.
"It is going to be an unimaginable traffic nightmare on Lockport Street," said Bonuchi. "I think the drop off and double parking in front of the building is unmanageable."
Trustee Cally Larson, who voted against the banquet hall with Bonuchi, said she too has an issue with the number of shuttle buses. Larson said she also is cautious about patrons who prefer to park in downtown and add to the already tight parking predicament.
But village trustee Larry Newton said he likes the fact the village will try this new business on a trial basis.
"I think it is a great use of space," he said. "We can tweak it after the first term and see how it goes."