Obituary: Robert Lee Ammons Jr.
Born May 10, 1955 Died October 3, 2019
10/11/2019, 11:42 a.m.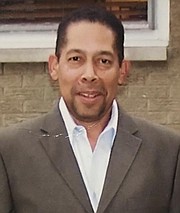 Robert Lee Ammons, Jr., 66, of Atlanta, Georgia passed away peacefully October 3, 2019 at Emory Hospital in Atlanta. He was born in Joliet, Illinois to the late Robert Lee Ammons, Sr. and Corine (Jones) Ammons. He attended Joliet Public Schools and graduated in 1971 from Joliet East High School and will be remembered as one of the star basketball players for the Joliet East Kingsmen. He went on to receive a full ride athletic scholarship to the University of St. Francis in Joliet where he earned a Bachelor's degree. Upon graduation, he was recruited into the Caterpillar Tractor Company's Management Trainee Program with a promising career ahead. Upon recognizing the enormous financial and economic growth in Atlanta, he decided to veer south, eagerly seeking to take full advantage of all the career opportunities that this bourgeoning metropolis had to offer. And that he did.

Once established in Atlanta, he joined forces with the news media, and quickly secured a coveted position as a videographer/cameramen for WXIA Television Channel 11 (NBC). In this position, he seemingly found his passion: capturing community stories that were compelling, but also award winning. He undeniably had a gift.
Yet, however inspiring and uplifting some stories were, there were others that unfolded disturbing, even horrific circumstances of the human condition. These were the stories that kept him up at night, urging him not only to carry on, but to dig deeper to make a difference—because being disturbed should never simply be the end of it, he felt.
He continued his passion of capturing compelling stories within the Atlanta community. His 42-year career intersected with some of the media's greatest giants, including career employment stints with WAGA Television FOX 5; WSB Television Channel 2; WGCL Channel 46 in a freelance capacity.

Robert is preceded in death by his father, Robert Lee Ammons, Sr.; maternal grandparents, Perry Jones and Ruby Jones; paternal grandparents, Eugene Ammons and Lucy Ammons; father-in-law, Rueben Arthur and mother-in-law, Emma Dee Arthur.
Robert leaves to cherish his memories, his wife, Mary (nee Arthur) Ammons; six children; Scott, Meon, Mia, Macy, Robert Lee III, all of Atlanta, GA and Jamal Payton of Greenwood, MS; mother, Corine Ammons of Joliet, IL; siblings, Susan Ammons-Tate of Boynton Beach, FL, Norris (Veronica) Ammons of Elwood, IL Brenda (Purcel-deceased) Washington of Joliet, IL, Robyn (Kenneth) Edwards of Shorewood, IL, Anthony (Kamlyn) Ammons of Jacksonville, FL and Velisse Ammons Williams of Frisco, TX; seven grandchildren, two great grandchildren; in-laws, Maggie (Calvin) Taylor of Woodson, AR, Pearline Arthur, Mildred Arthur Thompson (deceased), Pearline Arthur, Rueben Arthur, Marceline Arthur, Jerry (Debbie) Arthur, Jeffery Arthur and Pamela (John) Clark, all of Joliet, IL; special friends, Fred Lewis and Ron Loving; and a host of nieces, nephews, aunts, uncles, cousins and friends.
~Services Entrusted to~
Murray Brothers Funeral Home
1199 Utoy Springs Road SW
Atlanta, GA 30331
(404) 349-300
Services:
Saturday, October 12, 2019
Service: 11:00 A.M.
Greater Turner Chapel A.M.E. Church
4650 Cascade Road
Atlanta, GA 3033