Troy Trojan Baseball Team Places 4th at State
10/21/2019, 3:26 p.m.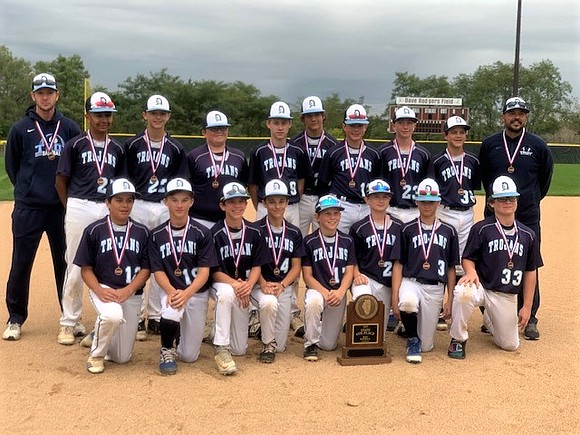 The Troy Community School District 30-C community congratulates its Troy Middle School Trojan Baseball Team for placing fourth at the recent IESA Class 3A State Baseball Tournament.
In September, the Trojans beat Minooka 10-0 in five innings to become Regional Champions and move forward to the state championship series.
At State, the Trojans first took on Homer Glen and won 4-0, moving the Trojans forward to the semi-finals as Sectional Champions.
"It was a really good game," Coach Tom Knapczyk said. "Jimmy Anderson was our strongest pitcher, and we were able to play pretty clean defensively."
The team played Chiddix Junior High School for the third place spot and lost 1-0 in what Knapczyk called a "heartbreaker," placing the Trojans at 4 th place in the state finals.
"When you're downstate," he said, "all the teams are good. To lose one to nothing was not the way we wanted it to end, but at the end of the day, it was a great learning experience for the kids and a really cool experience."
Knapczyk said from the beginning of the year, he knew this team would be a really competitive one. They were a fun group to coach, he said, and their focus and commitment, combined with their talent, was what moved them forward.
Troy Athletics Director Meagan DeGroot said she is proud of the team, both on and off the field.
"These kids put in a lot of time with practice," DeGroot said, "and also keep up their grades. To make it to state is an accomplishment in itself, and I am so proud of their sportsmanship there."
Head Coach for the Troy Trojan Baseball Team is Tom Knapczyk, and Assistant Coach is Ted Gernand. Troy Middle School is a Troy Community School District 30-C school.