Village Green project nears end
Madhu Mayer-mm@thetimesweekly.com | 10/29/2019, 10:45 p.m.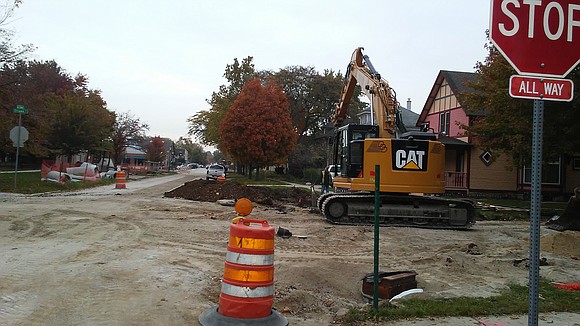 The light truly is at the end of the tunnel for Plainfield residents who live in the downtown area.
The three-year $2.75 million construction project that has brought many trucks and plenty of mess in their neighborhoods should be completed next year as contractors last week installed storm sewers on Ottawa Street between Fox River and Des Plaines streets. During the work, the intersection was closed to traffic.
The massive project is currently taking place in downtown Plainfield south of Lockport Street and is part of the underground utility improvements in the Village Green area, which encompasses Fox River Drive, Commercial, Ottawa, Chicago, Des Plaines and Illinois streets. The project includes water main and water service replacement, sanitary sewer main extensions and new storm sewers. Work on the utility improvements is scheduled to be completed by Friday, Nov. 22.
The final phase of construction, scheduled to occur in 2020, will be the roadway reconstruction of the neighborhood. This work will involve the removal of all existing pavement, curb and gutter, sidewalk and driveway aprons. New pavement, curb and gutter, sidewalk and driveway aprons will be constructed along with the installation of Americans with Disabilities Act compliant curb ramps.
Resident Maribel Ostrowski said it was time one of the older neighborhoods in Plainfield got a face lift.
"This area is so important to Plainfield because a lot of people come through our downtown area to shop, drink and eat," she said. "When people park over here, they are walking by our houses and our neighborhood. Just how good it looks now speaks volume to visitors."
While he is glad to see the improvements, Jim Foranski of Plainfield he cannot wait for the work to be over.
"When the weather was nice, we couldn't open our windows because it was so dusty," he said. "It does get a bit disheartening when all you see is mess the minute you look out your front window."