Goodman Theatre Bernhardt/Hamlet
9/3/2019, 10:28 p.m.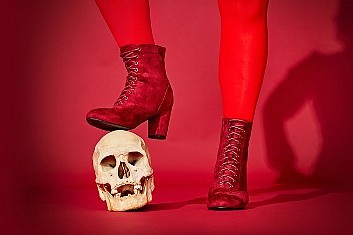 One of the great divas of the dramatic stage comes to new life in Goodman Theatre's production of Bernhardt/Hamlet on the Albert stage Sept 14-Oct. 20. Oregon Shakespeare Festival veteran Terri McMahon portrays the legendary Sarah Bernhardt in a production that was hailed on Broadway as a "breakneck backstage comedy." Pulitzer Prize finalist Theresa Rebeck and acclaimed Canadian Director Donna Feore directs the cast of 14 in this rollicking send-up of the backstage happenings and mishaps behind the art of theatre. The Chicago premiere of Bernhardt/Hamlet launches the Goodman's 2019-2020 season.
Legendary leading lady Sarah Bernhardt is recreated onstage by McMahon in a dynamic character study full of witty ideas and sophisticated banter. The result if a theatre experience that will have audiences literally falling off their seats with laughter. In it, Lady Bernhardt defies gender barriers as she assumes the role of a lifetime-Hamlet. Bernardt/Hamlet is a celebration of live theatre. For tickets and showtimes, visit goodmantheatre.org.